Eskymos Top Miners Under Gale Force Winds, 15-8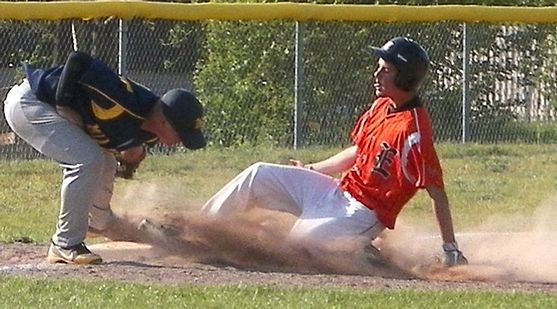 NEGAUNEE----The winds were so strong at Iron Town Field Thursday that routine fly balls turned into extra base hits, and the players were being pelted with pebbles that were swirling around with every gust. The Escanaba Eskymos and Negaunee Miners managed to battle through it, though, and the Eskymos left town with a 15-8 victory.

A 35-mile-per-hour wind was accompanied by wind gusts even higher throughout the entire game, making it tough for outfielders to judge fly balls. The pitchers also had to account for the wind, sometimes having to throw it harder to get it over home plate.

"It's 'blow your socks off' out there, I mean, you've got to hold on to everything," Eskymo Manager Kirk Schwalbach said. "Hats are flying around. I'm surprised there weren't lawn chairs on the field. I don't think we handled it real well in some situations. You've got to get back on the ball when you're in left field."

"It gets real windy, then it dies down. We hit a lot of pop flies before the game, but..."

But second baseman Nick Vandermissen said: "It was great. I loved it! It was fun."


Austin Young makes a sliding catch.

But Austin Young managed to make several outstanding catches in center field, including one where he slid on his butt to catch a Ryan Bischof fly ball in the second inning.

"The spin really mattered today because of the wind," Young said. "So, if it had a down-spin, it was headed to the ground right away. So, you just had to run to where the ball is, I guess.

"I saw the downward spin on that one, knew I was gonna have slide for it. I saw the kid tagging up from third and tried to get him (for a double play), but I threw it off-line."

"He's just awesome out there," Schwalbach said. "He just plays an outstanding center field. There's probably not a better center fielder in the whole U.P."

Offensively, Young got things going for the Eskymos when he ripped a long home run to left field on the second pitch of the game. That one was gone even without the wind.

"It was a curveball," Young said. "It looked like it hung a little bit. I timed it perfect."

Then, in the third inning, Young hit another home run, this time with one man on. That homer, though, was not as impressive as the first one. It was a fly ball that a hige wind gust picked up and carried out of the ball park.

"I hit it right off the end of the barrel, and as soon as I started swinging, I thought I was getting yelled at because it was a pretty high pitch," Young said.


Bailey Lamb's hit cleared the bases.

And his teammates were so unimpressed that they didn't even come out to meet him at home plate. "They gave me the silent treatment," Young said. "I'll get them back."

Back in the first inning, after Young's first homer, the Eskymos loaded the bases and Bailey Lamb came through with a base hit down the left field line. The ball hopped past the Miners left fielder and three runs scored, giving Lamb 29 RBI.

Escanaba added three more runs in the second inning on a two-run single by Vandermissen and an RBI single by Alex DeHaan. That made it 7-0, and then after the Miners got an unearned run in the bottom of the second inning, Escanaba scored two more runs in the third inning on Young's pop fly homer. That made it a 9-1 game as the winds really picked up strength.

Schwalbach's plan was to use four pitchers to get them ready for this weekend's big tournament in Sault Ste. Marie. Devin Olsen threw the first two innings, allowing only two hits and one unearned run. Vandermissen came in to pitch the third inning, and the Miners hit him hard. Six base hits and four runs brought Negaunee back into the game.

"He (Schwalbach) wanted me to throw a curveball, but I was throwing a change-up," Vandermissen said. "So, we were all messed up."

Dusty Goupille had an RBI single and Hunter Ridley a two-run hit in that inning.


Nick Vandermissen touches home.

The Eskymos got a run back in the fourth inning as DeHaan got his second RBI hit of the game, scoring Vandermissen, who had singled and stole second. Vandermissen had four hits in the game.

But Negaunee got two runs back in the bottom of the fourth inning against Kleiman...one of them was on a pop fly home run by Goupille, and the other on a fly ball that was missplayed by Cam Beversluis in left field. But Beversluis made up for the error by getting two base hits and putting down a sacrafice bunt at the plate.

The Eskymos put the game away with three more runs in the top of the seventh inning. Kleiman's triple past the Miner first baseman scored two of the runs, and then Vandermissen's pop fly single scored the third run. DeHaan came on to pitch the sixth and seventh innings, and allowed one run in the bottom of the seventh on an RBI single by Cory Larson.

Larson pitched the first five innings for Negaunee, allowing 12 earned runs on 14 hits. Tomy Zampese pitched the final two innings, and was charged with three runs on five hits. For Escanaba, Olsen, Kleiman, and DeHaan all pitched two innings while Vandermissen threw one. DeHaan earned the win on the mound.


Tyler Jandron had to sit this one out.

There were 32 hits in the game (19 of them by Escanaba), and despite the difficult playing conditions, Negaunee made just one error and the Eskymos had four.

Negaunee was playing without its best player, sophomore left-handed pitcher Tyler Jandron. He suffered a severe knee injury in a basketball tournament and is out for the season.

Escanaba finished its season series against the Miners with a 4-0 record.

The Eskymos (18-10) will play three games on Saturday at the Sault Ste. Marie Baseball Invitational.

The first game, against Shepherd High School, is scheduled for 10:00 in the morning. The game will be broadcast only on the Internet, at www.rrnsports.com because of other scheduled programming on WCHT-AM (600).

The Eskymos will then play Alpena at about noon, and the host Blue Devils at about 2:00. Those two games will be broadcast both on the Internet and on the radio.

Click the thumbnails in the 'ARTICLE HIGHLIGHTS' box up top to see more pictures, and to listen to audio clips. (Sheila Olsen photos)


It was hard to see Jeff Lyle leading off second through all the dust.