NMU Wildcats Hire Lozier As New Volleyball Coach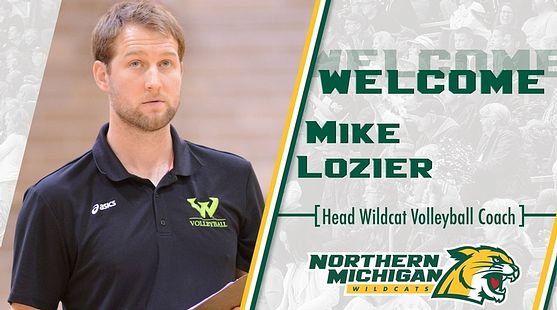 This story was written by NMU Sports Information.

MARQUETTE--- Mike Lozier was announced as Northern Michigan's head volleyball coach Wednesday afternoon.


"Throughout the interview process, Mike showed that he is in coaching for the right reasons and that he truly cares about making sure student-athletes have a quality experience," said Director of Athletics Forrest Karr. "The administrators and coaches we spoke with said that Mike is an excellent recruiter and that he will build a positive and hard-working team environment where student-athletes achieve their potential."


Lozier spent the past three seasons as an assistant coach at Wayne State. Before that, he was an assistant coach at Grand Valley State during its run to the 2013 GLIAC championship.


"I would like to thank President Erickson, Forrest Karr, Alex Tiseo and the search committee for this amazing opportunity," Lozier said. "Northern Michigan has an incredible history of success in volleyball, and I believe that the foundation is in place to continue that success. I am very excited to get in the gym with the team and get to work."


During his time with the Warriors, Lozier directed the program's recruiting efforts, assisted in practice planning and implementation and broke down game film. In 2016, Wayne State secured its first winning season since 2012 by going 19-11 (10-7 GLIAC).


Before he joined the Warrior staff, Lozier held the same position at Grand Valley State in 2013. That year, the Lakers won the GLIAC regular-season and tournament titles and finished with a 31-4 (17-1 GLIAC) record after falling in the NCAA midwest region finals.


During that time, Lozier also served as the men's club volleyball coach at Calvin College. There, he coached at multiple tournaments throughout the midwest, organized fundraising activities and created practice plans.


Lozier was also the 17U National Head Coach at the Michigan Volleyball Academy (2012 to 2014), the Director of Operations at Blue Lake Athletics (2007 to 2013) and the varsity head coach at Cedar Springs High School (2012 to 2013).


Lozier replaces Rashinda Reed, who stepped down as head coach after accepting the assistant coaching position at the University of Illinois under recently hired head coach Chris Tamas.


"I am really happy for Rashinda," Karr said. "She is a great coach and a great person and deserves this opportunity at the highest level of intercollegiate volleyball."