North Central Survives Upset Bid; Rapid River Wins

NEAGUNEE---The North Central Jets nearly had their dream of a third straight state championship derailed by an unheralded team from the Copper Country Monday night.

But the Jets pulled through in the end to keep the nation's longest winning streak alive.

North Central got 25 points from Bobby Kleiman, 18 from Jason Whitens, and 15 points from Dawson Bilski to pull out a 75-73 victory over Dollar Bay in Negaunee.

"We've never really had a game like that," Kleiman said. "You know, we're used to blowing teams out. But you've got to give credit to Dollar Bay. They played lights out. They shot so well. You've got to hand it to them."

"What'd they shoot, 70 percent?" Whitens asked. "There's nothing you can do about that. We were playing all kinds of defenses, and they were just making the shots. That's a credit to them. I've never seen that in the 105 games that I've played."

Devin Schmidt led Dollar Bay with 40 points. And he scored from all over. But the Jets survived, and will move on to Wednesday's regional final against Rapid River.

Click the AUDIO buttons above to hear interviews with Kleiman, Whitens.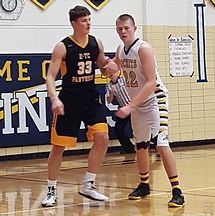 RAPID RIVER ROCKETS WIN---In the first game Monday night, Rapid River beat Ewen-Trout Creek, 63-56, as Logan Hardwick led all scorers with 21 points.

It was a back-and-forth game, but the Rockets had the lead for most of the night, going up 13-10 after one quarter, 32-25 at halftime, and 46-38 after three quarters.

Rapid River may be the ultimate Cinderella Story, going just 8-12 in the regular season before winning the district championship, and now, a regional semifinal game.

"I don't think our school has had a regional win in, it's got to be close to 30 years now," Rockets senior Mason Berglund said. "It's...there's no feeling like it. It's amazing."

"We've started to pass the ball a lot, and we've started to calm down," Hardwick said of his team's late-season success. "We used to be bad about going out of control and not calming down. Making our free throws is a big thing, too. We're making our free throws."

The Rapid River-North Central game on Wednesday will start at 7:00 ET in Negaunee, and will be broadcast live on WUPF-FM (Eagle 107.3).

Click the AUDIO buttons above to hear interviews with Hardwick, Mason Berglund, Tyler Sundling, and Coach Richard Poma.


CLASS C: MOUNTAINEERS, MINERS WIN---In Escanaba Monday night, there were no surprises, as the Mid Peninsula conference warriors from Iron Mountain and Negaunee cruised to easy victories. The IM Mountaineers beat the Newberry Indians, 66-37, and the Negaunee Miners turned back the Calumet Copper Kings, 65-43.

In the first game, the Mountaineers got off to a slow start, scoring just nine points in the first quarter. But after leading, 22-16, at halftime, Iron Mountain threw down 25 points in the third quarter and 19 more in the fourth quarter to pull away.

Carson Wonders led the Mountaineers with 24 points. Marcus Johnson added 17.

In the nightcap, Negaunee jumped to a 20-8 lead and put the game away with a 19-9 third quarter. The Miners got 22 points from Trent Bell and 18 from Dre Tuominen. Calumet was led by Matthew Ojala's 14 points. Wyatt Loukus added 13 points.