Northern Michigan Releases 2017 Football Schedule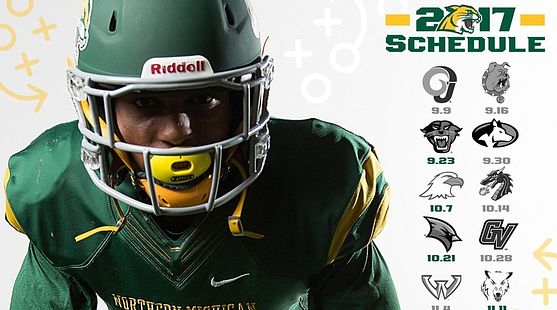 This story was written by NMU Sports Information

MARQUETTE — Northern Michigan University head coach Kyle Nystrom unveiled the football team's 2017 schedule Wednesday afternoon.

The slate includes 10 games, including four at the Superior Dome. The Wildcats will travel to two teams, Ferris State and Grand Valley State, that qualified for the 2016 NCAA Division II playoffs.

"It's a challenging schedule because of the power of our conference," Nystrom said. "The quality of football in the GLIAC will make every weekend a battle. Ferris State, Grand Valley State and Ashland are all on our schedule, and they're all playoff quality teams year in and year out. For us, it's about taking it game by game. Every week is going to be about preparing and then executing to win the game."

Northern Michigan's opponents went a combined 71-43 in 2016. Seven of the 10 teams finished at or above .500, with four scoring at least eight victories. In the NCAA playoffs, the Bulldogs advanced to the semifinals while the Lakers reached the quarterfinals.

The Wildcats kick off the campaign on Sept. 9 at Angelo State. Last season in Marquette, they took on the Rams for the first time since the 1987 NCAA quarterfinals.

"Our trip to Texas to play Angelo will be challenging but will prepare us for GLIAC play," Nystrom said. "Any time you play a team from Texas, you'll end up playing really good football because of how much commitment that state makes to the sport."

After beginning GLIAC play on Sept. 16 by battling Ferris State in Big Rapids, Mich., Northern Michigan faces Davenport in its home opener on Sept. 23. This will be the first meeting between the Wildcats and Panthers, who are new to the GLIAC in 2017.

Northern Michigan next rekindles its rivalry with Michigan Tech on Sept. 30 in Houghton, Mich.

The Wildcats then welcome Ashland to the Superior Dome on Oct. 7. After hitting the road to face Tiffin on Oct. 14, they return home to play Saginaw Valley State on Oct. 21.
Northern Michigan travels to Grand Valley State on Oct. 28 and Wayne State on Nov. 4.

The Wildcats wrap up their season on Nov. 11 at the Superior Dome by squaring off against Northwood.

The 2017 campaign begins a new era of Northern Michigan football, as Nystrom was named the 22nd head coach in program history on Dec. 20.

Times will be added to the schedule, which can be viewed on NMUWildcats.com, as they become available. The Wildcats are set to host a promotion each home game.

They are listed below:
Sept. 23 vs. Davenport - Homecoming
Oct. 7 vs. Ashland - Family Weekend
Oct. 21 vs. Saginaw Valley State - Band Day
Nov. 11 vs. Northwood - Senior Day/Veterans Day