NCA Jets Stop Norway Knights; Fall To Stephenson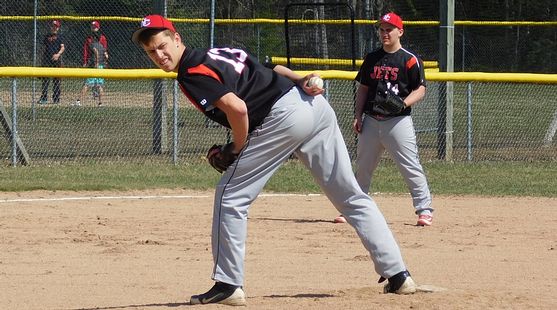 HERMANSVILLE---The football and basketball seasons were non-stop dreams come true for the North Central boys. But for this spring's baseball season, the Jets' success is a work in progress. North Central opened the baseball season on Friday with a pair of one-run games, beating Norway, 4-3, before losing to Stephenson, 3-2.


The game against Norway was played in the afternoon, with the kids off from school for Easter break. But the Jets got off to a sluggish start, giving up three runs in the top of the first inning on several walks and errors.

Norway led, 3-0, but didn't score again.

Dawson Bilski threw a complete game, allowing just two base hits. Seven errors behind him kept things interesting, but Bilski was helped by catcher Ben Snyder, who threw out two baserunners at second base and another at third base.

Bilski was also helped by the wind blowing in at Hermansville Field, as Norway's Dane Vandenheuvel lofted two long flies to left field that were caught in front of the fence.

Norway had strong defense, making just one error behind pitchers Caleb Tinkey and Micah Wilson. Right fielder Bryce Broden made a diving catch to rob Noah Gorzinski of an extra base hit and a run batted in in the fourth inning.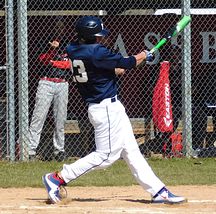 The Jets argued that it wasn't a catch, sying that Broden had trapped the ball on the ground. That argument fell on deaf ears.

NCA cut the lead to 3-1 in the second inning when Dalton Hancheck singled home Snyder, and then the Jets scored again in the third inning when Bobby Kleiman just missed a home run...doubling off the right field fence. He scored on a groundout by Bilski. The Jets tied it when Snyder singled and scored on a grounder by Zach Estrada.

North Central got the walk-off victory when Jason Whitens got a solid single to right-center field. He was bunted to second, and scored on a hard-hit double to right field by Gorzinski...the freshman who was robbed by Broden earlier in the contest. This time, Gorzinski got the last laugh.

STEPHENSON 3, NORTH CENTRAL 2---The Stephenson Eagles were mercied by Norway in their game one week ago, but came to play against the Jets in Friday's regularly-scheduled game. Jesus Bucera had two base hits, and Alex Hanson pitched a complete game as the Eagles stunned the Jets, 3-2. Rookie Jacob Tonie had the game winning hit for Stephenson. Hunter Riley took the pitching loss for North Central.

Click the thumbnails in the ARTICLE HIGHLIGHTS box above to see photos and video highlights from the North Central-Norway game.