Eskymos Take Foggy, Soggy Win Over Eagles, 12-5

ESCANABA---The Escanaba Eskymos and Stephenson Eagles braved raw weather conditions Saturday, and managed to play five innings of baseball at Al Ness Field.

The Eskymos won the game, 12-5, as the team's early-season homestand continued.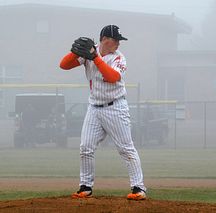 Johnny Schlenvogt pitched the first four innings before Noah Lancour relieved him in the fifth inning.

Stephenson scored two runs off of Schlenvogt in the first inning came on a Jesus Bucerra base hit, a couple of walks, a ground out, and an error.

The Eskymos scored seven runs in the bottom of the first off of Eagles ace Bryce Tharp, who had trouble throwing strikes. Tharp hit two batters and walked two others, and there were several errors behind him during that inning.

Schlenvogt helped his own cause with an RBI single, Parker LaMarch had a pop-fly single, and Courage Krueger singled home a run.

Escanaba Manager Kirk Schwalbach substituted freely after the first inning, and some of the younger players came through.

The Eskymos got a two-run single from freshman Justin Malmstead in the bottom of the fourth inning, the first varsity base hit for Malmstead.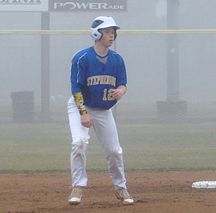 Escanaba improved to 3-2 on the season with its second straight home win, and the homestand continus with games on Tuesday against Gladstone and Wednesday against Marquette. Both of those games start at 5:00 and will be broadcast on WCHT-AM (NewsTalk 600).

Both games will also be streamed on-line at www.rrnsports.com.

Stephenson fell to 1-3 on the season, after its upset win the night before against North Central.

The Eagles host Bark River-Harris next Friday afternoon in a game that will be broadcast live on WUPF-FM (Eagle 107.3) and at www.radioresultsnetwork.com.

Click the thumbnails in the ARTICLE HIGHLIGHTS box above to see photos and videos from Saturday's game.