RUNNING WILD: Braves Overwhelm Eskymos 10-1

ESCANABA---Base running is a big part of high school baseball. Sometimes, it's an overlooked part of the game, with some teams taking a conservative approach when men are on base. Other teams run, run, and run some more.

The Gladstone Braves are in that second category. The Braves ran the bases aggressively Tuesday night against the Escanaba Eskymos, directly leading to a couple of Eskymo mistakes that helped to add up to a 10-1 Braves victory at Al Ness Field.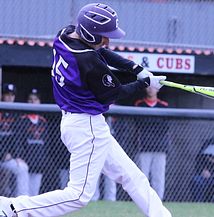 Gladstone got five strong innings of pitching from Clay Cole and made just two errors behind him on a cold and wet evening at the ballpark.

"We've got a good group of guys here who can hit the ball", Gladstone Assistant Coach Kurt Lauscher said. "We can pitch. We've got good defense. We can run. We're just looking forward to a good year."

Escanaba Manager Kirk Schwalbach was also impressed with the Braves, and not so much with his team, which had entered Tuesday night's game riding a three-game winning streak.

"Gladstone played well, and they threw strikes," Schwalbach said. "Our approach in the box was unacceptable and we made a lot of mental mistakes. Physical ones, too. We can't make mistakes like that against good teams."

Gladstone's speed was evident several times in the game.

In the second inning, Owen Hanson stole third base and Clay Cole swiped second.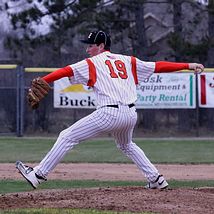 In the fifth inning, Lucas Weinert hit a lazy fly ball to shallow right field and on the catch, Braeden Lamberg was told to tag and come home. A surprised Eskymo right fielder Aaron Young threw late to the plate, and Tyson Seymour went to third base. The throw there was into the outfield for an error, and Seymour also scored.

And in the sixth inning, Weinert was up again, this time with the bases loaded. He hit a slow roller to short, scoring Ben Schwalbach from third. As the throw went to first, Weinert beat the throw and Daniel Martin kept coming from second base, also scoring.

"You've got to make them make a play," Lauscher said. "Just because it's a short fly ball, we can still score if the throw isn't perfect. We've got some guys who can run. We're gonna make them make some plays, especially this early in the season."

And later in the game, Cole raced home from third base and cleanly stole home plate, but the ruling was that the pitch hit batter Ben Schwalbach's bat for a foul ball.

Cole was in complete control on the mound for the Braves, scattering five hits over five innings of work. He struck out four and walked just one. The only run against him was unearned. Nick Trudeau pitched two perfect innings in relief.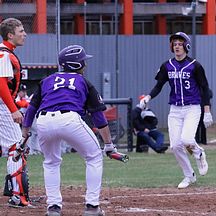 "I just concentrated on throwing strikes, because I know that my defense is going to back me up," Cole said. "I'm pretty sure with this team, we can make it down there (state finals)."

"We talked before the game, and I basically told him to 'locate your fastball, and you can get away with that'," Lauscher said. "I think he may have thrown eight curveballs the whole game. He was just locating his fastball and getting guys out."

Cole and Lamberg had back-to-back RBI singles with two out in the second inning to put the Braves ahead, 2-0.

The lead went to 4-0 in the fifth inning on that fly ball by Weinert, and that was all for Escanaba starting pitcher Justin Popelka.

Rookie Noah Lancour came on to throw for Escanaba in the sixth inning and walked four batters and uncorked a wild pitch that scored a run. Martin smoked one down the right field line for a two-run double, and Weinert had that two-run infield hit.

Lamberg had two hits for the Braves, both off of the Eskymo ace, Popelka.

"First pitch strikes," Lamberg said. "He's going to try to get up on you real quick. He usually throws it right down the pipe for you on the first pitch."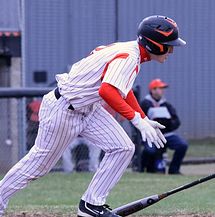 For Escanaba, overall, Schwalbach was disappointed in how his team performed.

"I was not happy with some of our at-bats, and our defense," said Schwalbach, who's team made six errors. "We had to save JP (Popelka) for Friday, and there are just too many games left. It's a busy week, and it's hard to find enough arms with six games in seven days."

Escanaba (4-3) faces Marquette Wednesday at 5:00 at Al Ness Field. The game will be broadcast on WCHT-AM (NewsTalk 600) and on-line at www.rrnsports.com.

Gladstone (4-1) travels to Marinette, Wis., Thursday at Pederson Ballpark. That game will also be broadcast on WCHT-AM (NewsTalk 600) and at www.rrnsports.com.

Click the thumbnails in the ARTICLE HIGHLIGHTS box above to see photos taken by Brenda Crow, listen to interviews with Kurt Lauscher, Lamberg and Cole; and listen to radio replays of RBI hits by Martin and Weinert.