Gauthier Hits Four Homers As Eskymos Win Twice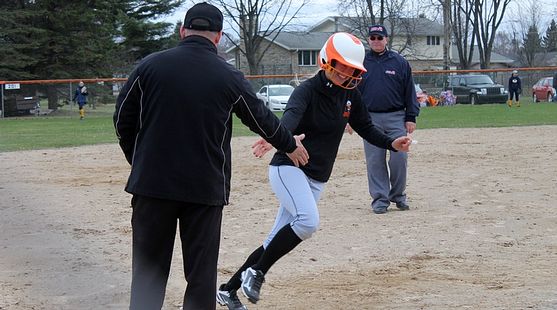 ESCANABA---The Escanaba High School softball team opened its home season in a big way on Wednesday, whipping the Negaunee Miners, 11-1 and 15-0, in a doubleheader at Lemmerand Park. The first game ended on the mercy rule in the bottom of the sixth inning while the nightcap was called by the mercy rule in the bottom of the third inning.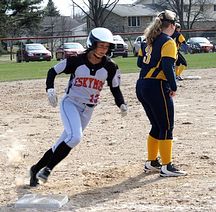 Taylor Gauthier had quite a day at the plate. After striking out in her first appearance in the opener, she crushed four home runs and added a double the rest of the way.

Gauthier now has eight home runs this season, which is only a couple of weeks old.

Katie Ross pitched the first game, throwing five scoreless innings, including three strikeouts in the first inning. The cold weather got to Ross in the sixth inning as her recently-injured leg tightened up, so she was replaced for the final outs.

In the second game, freshman Gabi Salo threw three scoreless innings. The game ended on the 15-run rule as Jerrika McAlpine got the base hit to conclude the doubleheader. Escanaba improved to 8-1 on the season.

Click the thumbnails in the ARTICLE HIGHLIGHTS box above to see photos taken by Mary Gauthier.