Bilski No-Hitter Leads NCA Jets Past Broncos, 6-0

HERMANSVILLE---Dawson Bilski made be headed to Michigan Tech University to play basketball, but the North Central Jets senior is enjoying his final baseball season.

Bilski fired a no-hitter on Monday as the Jets blanked the Bark River-Harris Broncos, 6-0, at the Meyer Township Fields in Hermansville. Bilski allowed just one base runner (he hit Logan Heim with a pitch in the first inning) in a game that lasted just 59 minutes.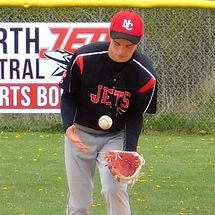 "My arm was feeling good," Bilski said. "Our catcher behind the plate, Ben Snyder, was calling the pitches real well. He called curveballs when I needed it, and fastballs when I needed it, too."

And what about that one base runner?

"Yeah, I threw a curveball and it kind of snuck in there and hit him in the elbow," Bilski said. "It happens when you're pitching."

For three innings, it was a pitcher's duel Bilski and Bark River-Harris's Matt Richer, as Richer also had a no-hitter going heading into the fourth inning. But Bobby Kleiman broke up Richer's no-no with a solid double to the fence to lead off the inning.

After Kleiman's hit, Richer walked Ben Snyder, and then Seth Polfus put down a nice but that was thrown away by the Bronco infielder. That allowed a run to score, and then Dalton Hancheck followed with a two-run single up the middle to put the Jets ahead, 3-0.

Ryan Arndt came on to pitch for the Broncos in the fifth inning, and he gave up three runs as Hancheck singled home another run and Snyder lofted a sacrifice fly.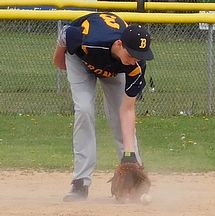 The second game saw NCA freshman Noah Gorzinski pitch against BR-H's Mason Korhonen, but the game only lasted two innings before the rains came and drenched the field. The Jets had a 2-1 lead on a home run to left field by Polfus, but the game was cancelled.

North Central travels to Stephenson for a single game on Tuesday at 4:00 CT. It will be broadcast live on WUPF-FM (Eagle 107.3) and at www.radioresultsnetwork.com.

OTHER LOCAL BASEBALL---Norway swept a doubleheader from Negaunee on Monday, 3-1 and 5-0, at Marion Park in Norway....Marquette and Kingsford split their twinbill, with the Redmen winning the opener, 3-1, and the Flivvers winning the nightcap. 10-0, at Haley Field in Marquette.

Click the thumbnails in the ARTICLE HIGHLIGHTS box above to see photos and videos, and hear Bilski's interview and a replay of the final out.