SOFTBALL RIVALRY: Escanaba Sweeps Gladstone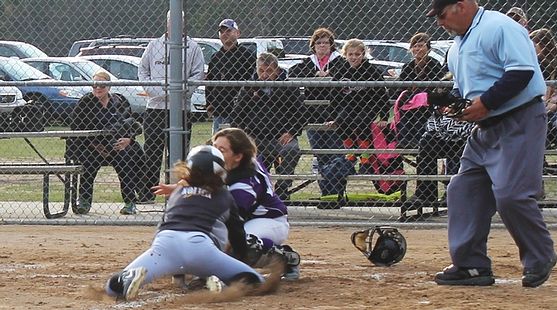 GLADSTONE---The Escanaba Eskymos swept a doubleheader from the Gladstone Braves, 4-3 and 6-2, Tuesday night in Gladstone.

The Eskymos played a mixture of small ball and long ball to stretch their winning streak to eleven games, heading into a big tournament this weekend in Ann Arbor.


"We talk a lot about mental toughness, and forgetting the last play, and just getting ready for the next one," Escanaba Coach Jamie Segorski said. "We needed games like tonight. We need to learn how to win close games. How not to fold in the last inning, and just stay mentally strong throughout the game."

For the Braves, it was two losses, but they were confidence-builders.

"When you're playing an elite team like Escanaba, every pitch is important," Gladstone Coach John Nevala said. "If you don't make the right pitch, they're going to hit the ball. The effort that these girls gave me today, I can't say enough about it."

In the first game, Escanaba played "small ball" to take the lead as Emily Bruntjens beat out a bunt single, stole second, and scored on a groundout by Katie Ross. The Braves tied the game in the fourth inning when Sydney Herioux got a leadoff single, went to second on a Tasi Martinez bunt, and scored on a wild pitch.

Escanaba regained the lead with three runs in the fifth inning, when Taylor Segorski led off with a triple past a diving right fielder Kaitlyn Hardwick, who had robbed Ross of extra bases with a diving catch earlier in the game.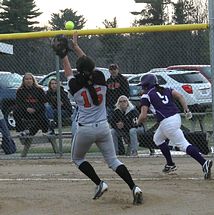 Segorski scored on a hard grounder to shortstop by Aubrey Saunders.

Savannah Barron followed with a double to right field, then Lexi Chaillier ripped a two-run homer off the top of a vehicle parked behind the center field fence to make it 4-1.

Freshman Gabi Salo was cruising along on the mound for Escanaba, but in the sixth inning, she walked Martinez with two out and watched as Hardwick smoked a two-run homer off the top of the scoreboard in right-center field.

That brought Gladstone to within 4-3, but Salo rec0vered to get the final four outs...three of them on strikeouts.

Salo ended up allowing three hits and three walks. She struck out ten batters. Jenna Steinhoff took the loss for Gladstone, giving up four runs on six hits.

The second game was scoreless for the first five innings as Steinhoff continued to throw for the Braves, and she got better as the evening moved on. Ross was in the circle for the Eskymos, and she was also tough, striking out the side in the second inning.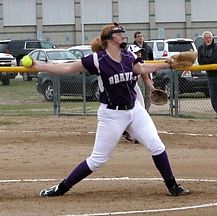 Finally, in the top of the sixth inning, Escanaba broke through. Jerrika McAlpiine got it started with a bunt single, then Ross singled.

Taylor Gauthier brought the first run home with a sacrifice fly, then Clare McInerney put down a suicide squeeze. Courtesy runner Maddie Kolich scored after a collision with Braves catcher Hannah Sharon.

Segorski followed with an RBI single to make it 3-0, then Escanaba scored three more runs in the top of the seventh inning on a couple of bunts and two errors.

Ross had a no-hitter heading into the bottom of the seventh inning, and it looked like she had it when Hardwick grounded to short. But it was bobbled, and Taylor Hunter followed with a base hit to break up the no-hitter. Then Steinhoff smacked a two-run single to left field to break up the shutout. Ross struck out Olivia Capidolupo to end the game.

Ross ended up allowing two runs on two hits and one walk. She struck out six.

Steinhoff took the loss again, allowing six runs on eight hits and one walk.

Escanaba improved to 21-2 on the season. Gladstone's record fell to 17-7.

Click the thumbnails in the ARTICLE HIGHLIGHTS above to see photos taken by Mary Gauthier and videos taken by Mike Dagenais. Also, click the AUDIO buttons to listen to radio interviews with McAlpine, Ross, Gladstone Coach John Nevala, and Escanaba Coach Jamie Segorski.