JETTING TO NMU: Krachinski Signs With Wildcats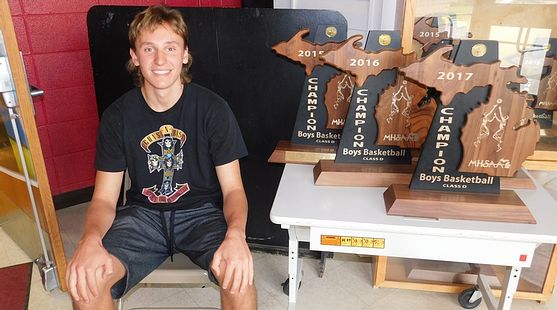 POWERS---North Central High School senior Marcus Krachinski signed a National Letter of Intent on Wednesday to play basketball at Northern Michigan University.

He is the third member of the Jets' state championship team to sign with a college team, after Dawson Bilski (Michigan Tech) and Jason Whitens (Western Michigan).

"Coach (Bill) Sall has been monitoring our team, obviously, with Dawson and Jason, and he just gave me an opportunity to come up and work out with the team," Krachinski said. "It just went from there."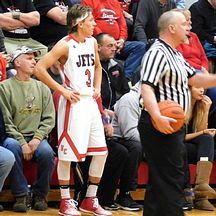 "Our team has been in contact with Northern for quite some time," Krachinski continued. "We went up there for team camps and I've been up there for individual camps, so I would say that for a few years, he's been able to watch me and the rest of the team play."

Krachinski, who carries a 3.95 Grade Point Average and is a member of the National Honor Society, was offered an academic scholarship to attend Michigan Tech University. But in the end, Krachinski said that he chose much less money from Northern for the opportunity to continue his basketball career as a Wildcat.

"I know that I need to get bigger, faster, and stronger," Krachinski said. "I'm actually rather young. I just turned 18 here in February, so I'm just looking to go up there, and do what I can to help the team. But I do know that I need to get bigger, faster, and stronger, and just overall, improve my game."

Krachinski also took time to thank his parents for "always being there for me".

Krachinski will join an NMU team that is already rich in young talent, after Isaiah Johnson, Marcus Matelski, and Sam Taylor all contributed as freshmen last season.

Krachinski plans to major in Finance and Risk Management at Northern.