Gladstone JV, Varsity Secure Soggy Baseball Wins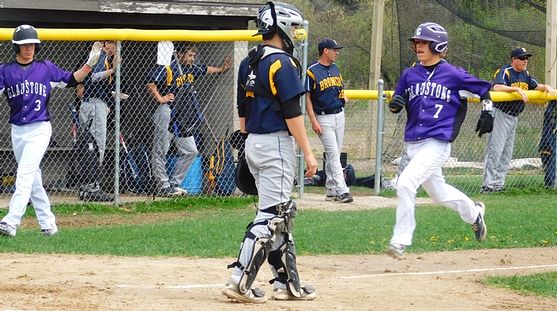 The Gladstone High School baseball teams were in the "win" column on Wednesday, with the varsity team winning in Negaunee and the JV's beating Bark River-Harris's varsity.

In the varsity game, the Braves beat the Negaunee Miners, 11-5, at Negaunee's Iron Town Field, in game one of a doubleheader. The second game was rained out.

Tyson Seymour led the way at the plate with a three-run homer in the first inning. He also had an RBI single in the sixth inning and had three base hits altogether.

Cooper Cavadeas and Carson Shea both had two hits as the team had a total of nine hits.

Owen Hanson pitched all six innings to earn the win. He scattered ten base hits, walked two and struck out two.

In the junior varsity game, Gladstone scored four runs in the first inning and beat the Bark River-Harris varsity team, 5-2, in Bark River. The game was called in the fifth inning when lightning and heavy rain arrived. Drake Forrest pitched the whole way for the JV Braves, throwing three shut out innings before allowing two runs in the fourth.

Jace Briggs and Ryan Arndt shared the pitching duties for the Broncos.

Click the thumbnails in the ARTICLE HIGHLIGHTS box above to see photos and videos from Wednesday's junior varsity game.