Little League Roundup: District Tourneys Continue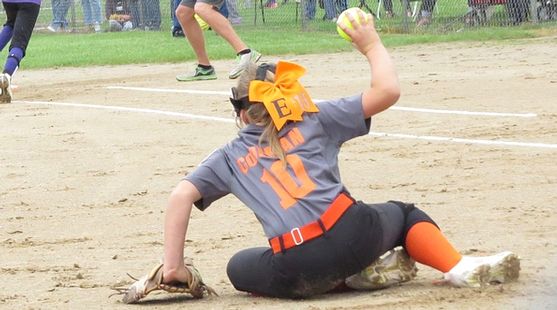 Here is a roundup of Friday night's district tournament action.

MINOR GIRLS (age 9-10)---The Escanaba girls cruised to their second straight win on Friday at Lemmerand Park. Grayson LaMarche threw a perfect game for Escanaba. In the first game, Gladstone blanked Norway, 10-0, to eliminate Norway from the tournament. Montgomery Pepin threw a no-hitter for the Purple, striking out 14 batters The Escanaba girls will play in the championship game on Sunday at 3:00. Gladstone will face Kingsford Sunday afternoon at 3:00 in the loser's bracket final.

MINOR BOYS (age 9-10)---The Escanaba boys held off Gladstone, 10-6, in the tournament opener for both teams at Dickson Field. Escanaba took a 3-0 lead in the first inning, with Alex Stalboerger had a two-run base hit.

Escanaba went up 5-0 in the second inning as Charlie McInerneyhad an RBI triple and Lennox Peacock added an RBI double. Gladstone closed to within 5-4 before Cole Carter got a two-run single for Escanaba in the fifth inning.

That made it 7-4, but Gladstone rallied again. Austin Pepin ripped a triple to start the bottom of the fifth, then Gavin Frossard came through with an RBI hit. Isaac Ketchum followed with an RBI single for Gladstone, but a second runner trying to score was tagged out at the plate, keeping Escanaba ahead by a run.

Peacock pitched three innings to earn the win, and Connor Arnt tossed the final three innings to earn the save. Cooper Sanville took the loss for Gladstone.

Tri-County beat Munising, 18-2, and Kingsford beat Norway, 15-11, in Friday's late games.

MAJOR BOYS (age 11-12)---Two district champions were crowned in the Upper Peninsula on Friday. In Gladstone, Kingsford completed an undefeated tournament run, beating Norway, 11-1, in five innings. Kingsford wins the District Ten title.

In Ishpeming, Portage Lake from the Copper Country beat Marquette, 15-12, in seven innings, to win the District Eleven title. Both Kingsford and Portage Lake will play in the 16-team state tournament, which starts next Friday morning in Gladstone.