Escanaba Major Girls Win Second Straight At States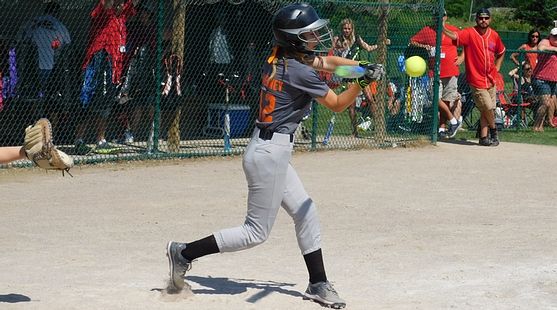 ST. CLAIR, Mich.---The Escanaba Major Little League All-Stars (age 11-12) got off to a slow start on Saturday in their state tournament game against White Lake, but the girls rebounded with a big second inning to beat the District 12 champions, 19-5, in St. Clair.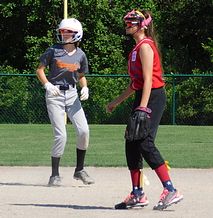 Escanaba, resting pitcher Mckayla Mott after an extra-inning win on Friday, fell behind 5-1 in the first inning as pitcher Abby Hill struggled to throw strikes. She walked three batters, all of whom scored, and Paige McFarren had a nice two-run hit for White Lake.

But Aubrey Stropich came on to pitch and settled things down, and Escanaba sent 19 batters to the plate in the second inning, scoring 15 runs, to put the game away.

White Lake, which lost 28-2 to Milan on Friday, played much better on Saturday, with several nice defensive plays.

They did commit seven errorsand walk nine batters, however, and the Escanaba batters were in "free swing" mode throughout the contest.

Izzy Braun had two hits and drove in three runs during that second inning. Mott added a two-run single, and Carney Salo had a two-run single in the fourth inning.

Stropich pitched four innings, striking out six batters and allowing two hits.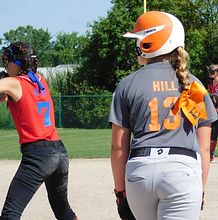 With their second state tournament win in the bag before noontime, the Escanaba girls headed 50 miles down Interstate 94 to watch the Detroit Tigets play the Toronto Blue Jays at Comerica Park.

Escanaba finishes pool play against District Three champion Milan at 2:00 on Sunday.

Milan lost to Grandville, 14-0, on Saturday. The Escanaba-Milan game will be broadcast live on WCHT-AM (NewsTalk 600), and on-line at www.rrnsports.com.


SATURDAY'S OTHER ACTION---The Escanaba and Gladstone Minor Boys (age 9-10) both picked up wins in district tournament action on Saturday. Escanaba advanced to the district finals with a 15-5, five-inning victory over Tri-County. Gladstone stayed alive with a marathon, three-hour-long win over Munising, 24-12.

In the Minor Softball (age 9-10) district tournament on Saturday, Gladstone eliminated Kingsford, 7-0. The Gladstone girls face Escanaba in the district championship game Sunday at 3:00 at Escanaba's Lemmerand Park.

In downstate Vicksburg, the Kingsford Junior Girls (age 13-14) finished pool play with a perfect 3-0 record at the state tournament. Kingsford mercied all three opponents and scored 47 runs, beating Cheboygan on Friday, 12-1, Byron Township Saturday morning, 20-10, and Taylor North Central, 15-5. The Kingsford girls face the host Vicksburg team in Sunday's second state semifinal game, at 12:30 ET/11:30 a.m.CT.

In Negaunee on Saturday, the Norway-Iron Mountain Junior Boys (age 13-14) easily won its sectional opener against Negaunee-Ishpeming-Gwinn, 20-1. The two teams will play again on Sunday. The winner plays in the state tourney in Charlevoix.

Click the thumbnails in the ARTICLE HIGHLIGHTS box above to see photos taken by Caron Salo (below picture from Detroit taken by Heidi Bullen). Also, click AUDIO to hear our post-game interview with Aubrey Stropich!