END OF THE LINE: Gladstone Girls Eliminated 1-0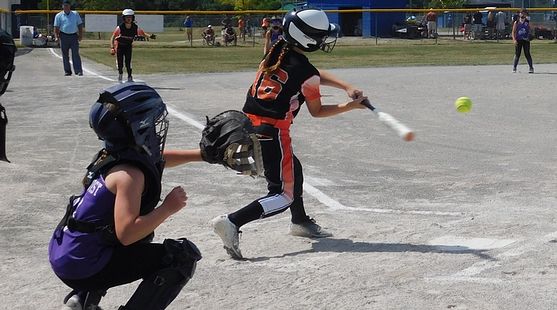 BELLEVILLE, Mich.---The Gladstone Minor Girls (age 9-10) Little League softball team had its tournament run come to an end in the state semifinals with a 1-0 loss to Marine City on Wednesday in downstate Belleville.

Gladstone not generate any offense at all against Marine City pitcher Josalyn Dietlin, and the District Seven champs did just enough against Montgomery Pepin to earn the win.


Dietlin pitched a no-hitter, striking out 16 batters in the six inning game. Pepin, in a losing effort for Gladstone, struck out 14 batters and allowed just three base hits.

"We prepared the girls mentally by telling them that this would be exactly like playing Escanaba back home," Gladstone Manager Rick Pepin said. "So we had our girls in the right mindset. Unfortunately, we just weren't able to get our bats on the ball today."

Gladstone managed to get just one baserunner, although that one runner did set up some last-second dramatics in the bottom of the sixth inning. With one out, Kandall Taylor bunted, and the throw from the third baseman went wide of the target. Taylor was replaced by special pinch runner Addie Blowers.

Blowers went to second on a wild pitch and stole third base as Camryn Buckley struck out. With Blowers carrying the tying run, Dietlin struck out Samantha Drielick to end the game...and Gladstone's state tournament run.

"She threw very well today," Rick Pepin said about Dietlin. "As you can see, she has a intimidating presence on the mound. Montgomery pitched well, too."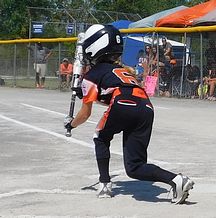 "Montgomery was solid all week, and we're so proud of her. I think we did a really good job of representing our communities (Gladstone and Rapid River) back home."

Marine City scored its run in the third inning when Emma Terhune squared to bunt but was hit by the pitch. She went to second on a passed ball and scored on a two-out single by Olivia Volkman.

The other two Marine City singles were hit by Jade Blanchard. And Harmony Gray drew a walk.

Marine City will face Grandville in Thursday's state championship game. Grandville knocked off Evart, 3-0, in Wednesday's other semifinal game. Marine City and Grandville met in pool play earlier in the week, with Marine City pulling out a walk-off 2-1 victory.

Click the thumbnails in the ARTICLE HIGHLIGHTS box above to see photos taken by Amy Sundquist.