Seymour Signs With Muskegon Community College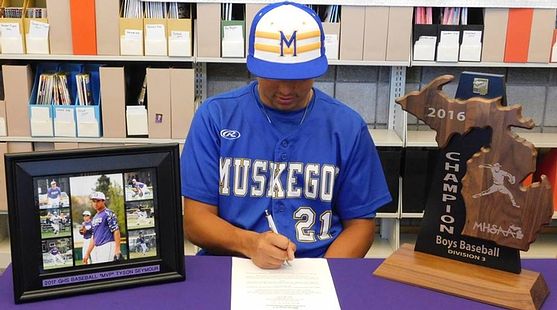 GLADSTONE---Gladstone High School graduate Tyson Seymour signed a National Letter of Intent on Tuesday to play baseball at Muskegon Community College.

Seymour was a Division Three All-State selection in his senior year at Gladstone.

Seymour batted .437 with three home runs and 28 RBI as the Braves finished with a 29-8 record and advanced to the regional final this spring. He doubled and scored his team's only run in a 1-0 win over Roscommon in the regional semifinal game.

Seymour was also a key part of the Gladstone Indians American Legion baseball team's run to the Class A state championship this summer.

Click the thumbnails in the ARTICLE HIGHLIGHTS box above to see videos of Seymour's signing and his video interview.