Eskymos Stunned By Overtime Loss To Gaylord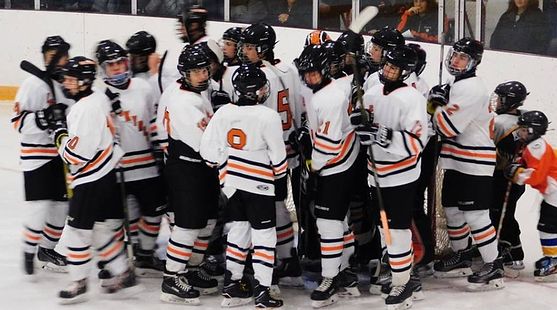 WELLS---The Escanaba High School hockey team gave up two goals in the final 19 seconds of regulation, and then lost in overtime to the Gaylord Blue Devils, 5-4, Friday night at the Hannahville Ice & Turf.

Gabe Kleinsorge scored at the 4:21 mark of overtime to break the 4-4 tie and complete an amazing comeback for the Blue Devils.

The Eskymos led, 4-2, until Gaylord pulled its goaltender and managed to get two goals in 18.6 seconds, by Gunnar Buhr and Sam Gomo. Gomo's goal came with 0.6 seconds left in regulation, and marked Gaylord's second comeback of the evening.

Escanaba jumped to a 2-0 lead as Christer Carne and Hayden Haslow scored in the first period. The Blue Devils got two quick goals of their own to tie the game at 2-2.

Carne gave the Eskymos a 3-2 lead in the second period, and then Grant Wickham scored to make it 4-2...a lead that would stand until the final seconds.

It was a bitter pill for the Eskymos, who also lost, 4-0, to Marquette on Tuesday.

The Eskymos (0-2-0) have the rest of the weekend off before traveling to Negaunee on Monday. Game time is 7:00. The game will be broadcast live on WCHT-AM (NewsTalk 600), and on-line at www.rrnsports.com.

Click the AUDIO button above to hear Hayden Haslow's player spotlight interview.