Strong Defense Helps Braves Upend Flivvers 52-43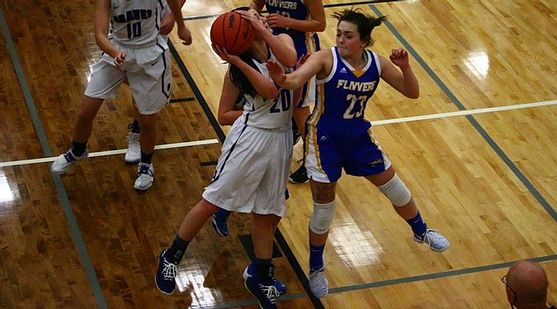 GLADSTONE---The Gladstone High School girls basketball team allowed just 14 points in the first half and topped the Kingsford Flivvers, 52-43, Tuesday night in Gladstone.

Gladstone senior Taylor Hunter scored 13 points, and fellow senior Kaitlyn Hardwick added 12. Sophomore Andie Balenger added ten points.

Kingsford was led by Olivia Allen's 12 points.

Gladstone led, 26-14, at halftime, and took a 34-17 lead midway through the third quarter. The Flivvers closed to within seven late in the game, but could get no closer.

Gladstone improved to 2-3 on the season. Kingsford fell to 3-2.

The Braves travel to Iron Mountain on Thursday.

Click the thumbnails in the ARTICLE HIGHLIGHTS box above to see photos taken by Brenda Crow.