Freshmen Lead Escanaba Wrestlers Past Marinette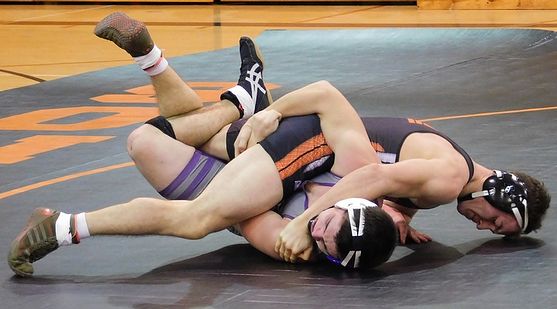 ESCANABA---Freshmen Collin Arnt and Brodey Bevins got pins in the night's final matches to lead the Escanaba High School wrestling team to a 41-34 dual meet win over the Marinette Marines Tuesday night at the Escanaba High School Gym.

The Eskymos vaulted to a 29-10 lead but fell behind when Marinette got four straight pins in the upper weight classes. But the freshmen at 103 and 112 pounds both notched victories in the first period of each of their matches to secure the team victory.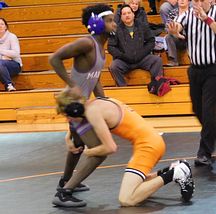 The match started at 119 pounds, and Escanaba's Justin Mathieson wasted no time, pinning Marinette's Alec Queever in 29 seconds.

That was the quickest match of the night.

After Marinette's London Brown got a pin at 125, Escanaba's Tyler Lawson scored two points with 37 seconds left in the third period to beat Sam Gressel, 5-4. Escanaba's Hunter Larson picked up five points with a 19-4 tech foul win at 140, then at 145 pounds, Courgae Krueger got two points in the final 38 seconds to win, 6-4.

Dayton Miron got a pin early in the third period of his 152-pound match to put the Eskymos ahead, 23-10, and then Scout Wunder dominated his match with Marinette's Brady McVane at 160 pounds, pinning McVane in one minute, 28 seconds.

But the Marines posted four straight pins at 171, 182, 215, and heavyweight to take the lead in the dual meet, setting up the final two matches with each team's smallest kids.

Arnt took the advantage over Marinette's Chase Weiser in the first 30 seconds, then the match was delayed for more than a minute when Weiser was shaken up. He fought off his injury, but Arnt completed the pin shortly thereafter...in 62 total seconds.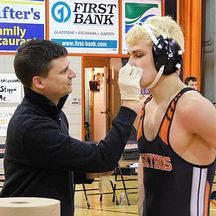 That gave Escanaba a 35-34 lead, and meant that the 112 pound match would decide who won the dual meet. And Bevins also took control early, and eventually pinned Owen Suennen in one minute, 25 seconds, to seal the Eskymo victory.

For the Eskymos, the meet was a tune up for the annual Escanaba Elks Invitational, which will be held this Saturday at the Escanaba Gym.

Twelve teams from across the Upper Peninsula, along with Grayling and Benzie Central from below the Bridge, are scheduled to be there. The wrestling begins at 10:00 Saturday morning.

Click the thumbnails in the ARTICLE HIGHLIGHTS box above to see photos, video highlights from the match.