ON THIN ICE: Rough 1st Period Costs Eskymos, 5-1

MARQUETTE---The Escanaba High School hockey team gave up three goals in the first period and lost to the Marquette Redmen, 5-1, Tuesday night at Lakeview Arena.

Five different Redmen players scored goals as Marquette swept the season series from the Eskymos. Marquette outshot Escanaba, 18-4, in the first period.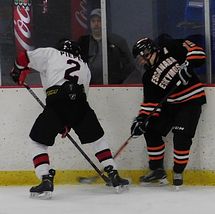 Sean O'Connor put the Redmen on the board just 2:48 into the game, and then Marquette struck twice in a span of 1:29 late in the period to take a 3-0 lead. Joe Phillips scored on a power play, then Tanner Phillips scored an even strength goal moments later.

In the second period, each team had eight shots on goal, but Marquette got the only goal as Kobie Guidebeck scored on the power play t0 make it 4-0.

Hunter Doucette gave Marquette a 5-0 lead early in the third period before Eskymo freshman Brayden Stannard broke the shutout with a goal on a five-on-three power play with 7:57 left in the game.

Senior Hayden Haslow drew the lone Escanaba assist.

Guidebeck and O'Connor each had assists to go along with their goals for Marquette, which improved to 9-6-0 on the season. Escanaba fell to 4-7-0.

Junior goaltender Tyler Bergwall made 18 saves on 19 shots for the Redmen. Escanaba senior goalie Brodie Goddard faced 37 shots, making 32 saves in the loss.

Escanaba is back at home Thursday night to face the Calumet Copper Kings. Game time is 7:00. It will be broadcast live on WCHT-AM (NewsTalk 600) and rrnsports.com.

Click the thumbnails in the ARTICLE HIGHLIGHTS box above to see photos and videos, and listen to Christer Carne's player spotlight interview.