Flivvers Swarm Eskymos In Mercy-Shortened Game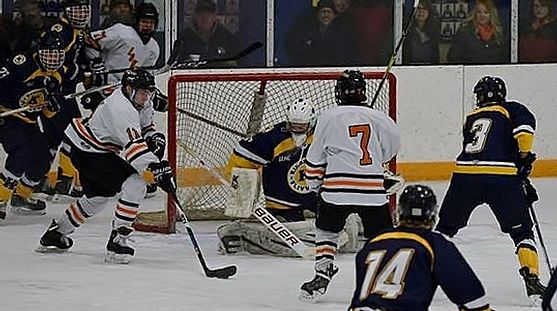 WELLS---It started late and ended early.

The Kingsford High School hockey team scored a pair of early goals and rolled to a 9-1 win over the Escanaba Eskymos Thursday night in Wells. The game started 15 minutes late because of Eskymo Parent's Night activities, but ended early on the mercy rule.

Daunte Fortner, Nick Murvich, and Eamonn Weed all scored two goals apiece, and Pete Ropiak had a goal and two assists to lead the Flivvers. The visitors stunned the Eskymos when Colin Watkins scored just 13 seconds into the game and another at the 2:10 mark.


Aaron Young scored for the Eskymos with six minutes left in the first period to cut it to 2-1, but Escanaba failed on three straight power plays, including a long five-on-three.'

C.J. Dantes also scored for the Flivvers, who improved to 12-4-1 on the season.

Kingsford scored nine goals on just 18 shots. Six of the goals came against senior Eskymo goaltender Brodie Goddard, while the other three were against sophomore Trevor Denome. Flivvers sophomore goaltender Evan Hedtke was rarely challenged, making 12 saves on 13 shots.

After the game, it was like a scene from the movie "Miracle", when an upset Eskymo coach Matt Hughes had his players skate up and down the ice rather than going to the dressing room. Escanaba fell to 5-11-0 on the season with the loss.

Click the thumbnails in the ARTICLE HIGHLIGHTS box above to see videos taken by Sandi Young, photos taken by Anne Truitt, and to hear our interview with student managers Ture Burholt and Cooper LaMarch.