BASEBALL BEGINNINGS: Tharp Signs With Norse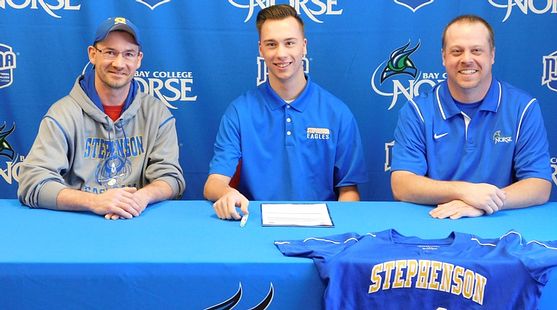 ESCANABA---Bay College's new baseball program has signed its first player. Bryce Tharp, a pitcher who graduated from Stephenson High School last May, signed a National Letter of Intent Friday to play for Bay when the college starts its first campaign in the Spring of 2019.

Tharp pitched for the Stephenson Eagles in 2017, playing for his father, Jim Tharp.

He also played for the Menominee Red Wave American Legion Baseball team that finished as state runners up to Gladstone last summer. Tharp pitched a complete-game shutout in his only appearence on the mound in that tournament in downstate Gladwin.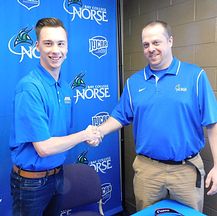 "I want to make new friends and new teammates as well, and hope the season goes well to start the program," Tharp said. "I'm gonna hit the weight room a lot harder, and still keep throwing in the gyms when I can't throw outside."

"We're excited to get the ball rolling with this, and get the roster started," Bay College Baseball Coach Mike Pankow said. "I'm happy to have a talented young man, and a good young man, to sign with our program and represent Bay College in the future."

Pankow says that pitching is at a premium, and he will be busy recruiting more arms.

"You can never have enough pitching at this level," Pankow said. "Bryce is a great person to start with, a telented young man, and we're happy to have him."

BASEBALL, SOFTBALL TRYOUTS---Bay College Baseball/Softball Audition Day will be held on March 3, 2018 at the Hannahville Turf Complex.

The Audition Day will be in a showcase style format. Athletes that have any interest in attending Bay College and possibly playing baseball or softball next season are strongly encouraged to attend. Prospective student-athletes will not only get a chance to meet the head coaches, but will be allowed to demonstrate their skills in a number of different settings.

The athletes will show off their fielding, hitting, throwing, pitching, and running abilities in a two hour time slot. Per NJCAA rules "a prospective student-athlete must have completed his/her junior year in high school or home school equivalent to participate in an audition."

Prospective student athletes also must be able to provide verification that he/she has received a physical examination in the past 13 months prior to the event.

Student-athletes are being asked to register by February 28th. The online registration form can be found here, or by going to the baseball and softball pages on www.baynorse.com.