Delta County Wrestlers Qualify For State Regionals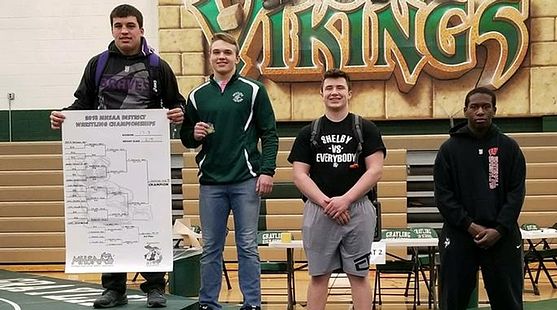 The MHSAA individual wrestling districts were held on Saturday, and Delta County boys did well as the Escanaba Eskymos' Scout Wunder and Hunter Larson won championships and Gladstone's Jared Demeuse upset a top-seeded wrestler.

In Division Two at Gaylord, Wunder pinned Flint Kearsley's Tyler Byczynski in 24 seconds to win the 160 pound title. And at 135 pounds, Larson edged Flint Kearsley's Trenton DiGenova on a 5-3 decision. Escanaba's Brodey Bevins qualified for regionals with a second-place finish at 112, and freshman Colin Arnt was fourth at 103 to qualify.

In Division Three in Grayling, Demeuse pulled the upset at 215 pounds, beating Reece Ferrigan of Grayling on a 7-5 decision. Demeuse had just three losses this season, with two of them coming to the top-seeded Ferrigan, who entered with a 40-2 record.

Demeuse's win wasn't the only upset for the Braves, as 152-pound sophomore Brody Sanville beat Kingsford's Trevor Povolo on a 6-5 decision for the championship.

Gladstone's other district champion was Adam Bruce, who won his 130-pound title match over Whitehall's Mitchell White on an 11-1 major decision.

Gladstone had a total of eight wrestlers quarlify for regionals, with Cole Dawson (285), Lane Matzke (103), Vadym Torvinen (119), and Nick Dawson (125) all finishing second in their weight classes. Cole Hansen (140) was third in his weight class and also qualified.

In Division Four in Munising, Bark River-Harris had four boys advance to next week's regional individuals: Devin Racicot at 215 (second place), Tyler Racicot at 140 (4th), Mason Ray at 135 (3rd), and heavyweight Wyatt Massie (runner-up).