Eskymos Drop Overtime Heartbreaker In Kingsford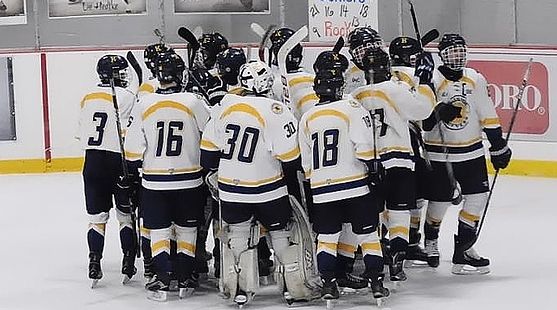 IRON MOUNTAIN---The Escanaba High School hockey team played hard Tuesday night, but came up short, losing in overtime to the Kingsford Flivvers, 3-2.

Trey Bociek scored early in the overtime period after the Eskymos had killed off a Flivver power play.


The Eskymos gave Coach Matt Hughes a much stronger effort Tuesday than they did two weeks ago, when Kingsford left the Wells Sports Complex with a 10-2 mercy-rule victory.

This time, it was scoreless for most of the way as Eskymo goaltender Brodie Goddard stopped all 26 shots he faced in the first two periods.

Late in the second period, with 4:40 left on the clock, Grant Wickham broke the tie with a power play goal, set up nicely by Blaine Reinhart.

The Eskymos killed off a 5-on-3 power play, but moments later, Nick Murvich scored just 51 seconds into the third period to tie the game.

Then, several shifts later, the Eskymos turned the puck over in front of Goddard and Nick Saari put it home at the 3:26 mark, putting Kingsford in front.

Escanaba retied the game with 4:02 left on the clock as Wickham scored his second goal, also on the power play. But the Eskymos went on to lose their fourth straight close game, on the heels of three tight losses at the Showcase in downstate Chelsea.

The Eskymos lost on Saturday, 3-2, to Hudsonville as Grant Wickham and Christer Carne scored in a losing effort. On Friday, the boys fell to Grand Haven, 4-2. Justin Van Drese and Blaine Reinhart scored Escanaba's goals. On Thursday, the Eskymos grabbed a 2-0 lead but lost to Rochester Stoney Creek, 4-3. Aaron Young, Reinhart, and Chris Sliva scored in that loss.

The Eskymos travel to Sault Ste. Marie this weekend for two games against downstate teams. They will face Grand Rapids West Ottawa Friday night at 6:00, and Berkley on Saturday at 1:00. Both games will be broadcast on WCHT-AM (NewsTalk 600), and the Friday night game will also be broadcast on WGKL-FM (Kool 105.5).

Click the thumbnails in the ARTICLE HIGHLIGHTS box above to see photos, and videos. And click the AUDIO buttons to hear interviews with Grant LaMarche and Coach Matt Hughes.