Eskymos Roll Past Negaunee In Playoff Opener 9-1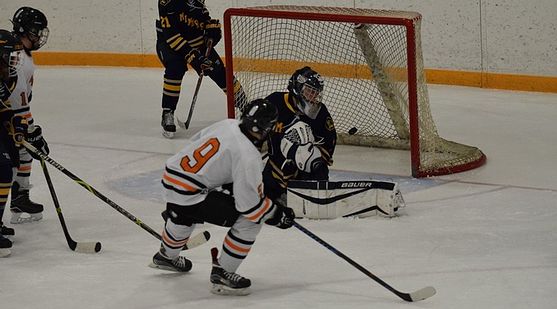 WELLS---Brayden Stannard had a hat trick and Blaine Reinhart had a three-assist "playmaker" as the Escanaba Eskymos beat the Negaunee Miners, 9-1, Tuesday night, in the MHSAA Division Two regional opener at the Hannahville Ice & Turf.

It was the third win of the season for the Eskymos over the Miners, and set up a regional semifinal game with Kingsford on Thursday. The Flivvers rallied to beat Marquette, 4-3, in overtime, Tuesday night, on goals by Sawyer Perpich and Dante Fortner.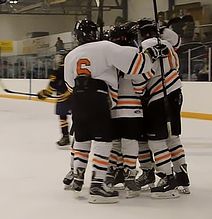 In Wells, the Eskymos scored five goals in the first period to take control of the game. Stannard had two of them, including a shorthanded goal. Jake LaFave had his first goal of the season with a nice tip of a Cadon Hayes shot just 5:25 into the game.

Joe Jacobson and Kyle Krutina also scored goals in that first period for Escanaba.

In the second period, Trent Sweeney scored for the Miners when the Eskymos got a little too offensive-minded at the other end of the ice.

But Stannard completed his hat trick a short time later to make it a 6-1 game, then senior Aaron Young found the back of the net a minute later, and it was 7-1.

Defenseman Chris Sliva ripped home a power play goal to make it 8-1, then fellow defenseman, senior captain Hayden Haslow, scored from between the circles with 29 seconds left in the period.

The game ended on the mercy rule after two periods.

Escanaba outshot Negaunee, 33-8, including 17-3 in the second period.

Escanaba improved to 8-18-0 on the season. Negaunee finished 1-23-0.

The Eskymos-Flivvers game on Thursday is set for 7:00 ET. It will be broadcast on WGKL-FM (105.5), WCHT-AM (600), and on-line at www.rrnsports.com.

Click the thumbnails in the ARTICLE HIGHLIGHTS box above to see videos taken by Sandi Young and photos by Anne Truitt. Click the AUDIO buttons to hear interviews with Haslow, Reinhart, Stannard, LaFave, and Coach Matt Hughes.