THIRD TIME'S THE CHARM: Eskymos Top Braves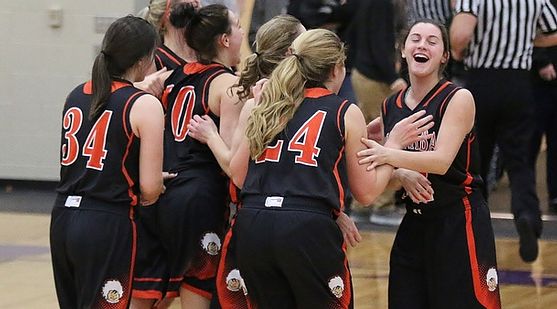 GLADSTONE---It's an ending that you just had to see to believe.

The Escanaba Eskymos beat the Gladstone Braves, 49-48, in a thrilling Class B girls basketball district semifinal game Wednesday night in Gladstone.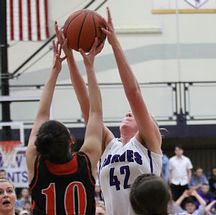 Mykenzie Monkevich, who transferred from Gladstone to Escanaba last year, scored the go-ahead basket with 4.3 seconds left to play as the Eskymos got revenge for two regular season losses to the Braves.

The Eskymos dominated the first half, leading, 27-16, at halftime.

But the Braves got their wake-up call in the locker room, rolling over the Eskymos on a 23-3 run that saw Gladstone take a 39-30 lead.

The Gladstone crowd was howling, but hold on!

After Megan Crow scored to give the Braves a 48-42 lead with three minutes left in the game, the Eskymos clamped down on defense again. They forced three turnovers with an aggressive full court press. Cassidi Stannard, a transfer from Bark River-Harris, got a huge steal that led to a pair of Lexi Chaillier free throws with 18.6 seconds left.

The Eskymos, still down 48-47, fouled Maddie Ahlgren to put her on the free throw line. Ahlgren missed the front end of the one-and-one, and the Braves, with Taylor Hunter on the bench with five fouls, could not track down the rebound.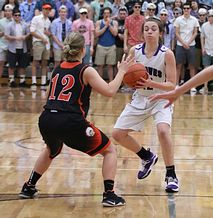 The Eskymos worked it up court, and freshman Nicole Kamin attacked the basket. She was blocked by Crow, who's also a freshman.

But Monkevich got the ball, and went up for the one-hander, giving Escanaba an improbable 49-48 lead.

After a time out, Gladstone tried to get a long pass up court to Crow, but the pass was way off target, and the ball went, of course, into the arms of Monkevich at half court.

And then both teams cried. The Braves, the agony of defeat. The Eskymos, tears of joy.

The Eskymos host Sault Ste. Marie in the district championship game Friday night. The Blue Devils eliminated Menominee, 60-33, in the other semifinal.

Click the thumbnails in the ARTICLE HIGHLIGHTS box above to see photos taken by Brenda Crow, and videos taken by Mike Dagenais. Click the AUDIO buttons to hear interviews with Monkevich, Gladstone Coach Andy Cretens, and Escanaba Coach Mike Beveridge. Also, game-winning shot replay.