Ishpeming Girls Outlast West Iron County In Semis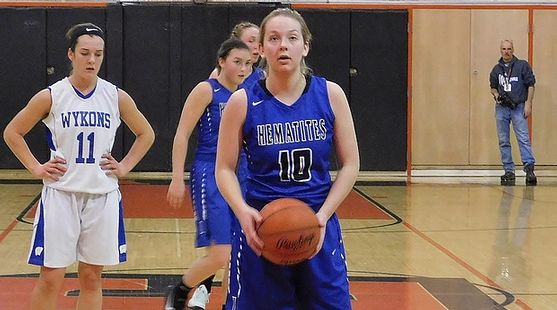 ESCANABA---The Ishpeming Hematites and West Iron County Wykons went down to the wire Tuesday night in the Class C regional semifinals at the Escanaba High School Gym. In the end, defense ruled the day as the Hematites survived, 59-55.

Ishpeming's Madigan Johns, who was named the Mid Peninsula Conference Player of the Year earlier in the day, scored a difficult basket and foul with 2:22 to play to put the Hematites back in front, 55-51.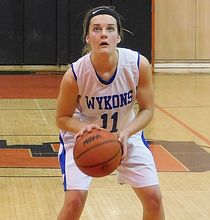 But in the final minute, Johns turned the ball over on an inbound play at half court, and moments later, West Iron's Emily Nelson drove to the basket and scored on the baseline, tying the game at 55-55 with 32.4 seconds left in the game.

The Hematites did not call time out. Instead, the girls pushed the ball up court and Johns attacked the basket. She was fouled with 9.8 seconds left, and made both foul shots.

The Wykons' last chance ended at half court when Madison Pruett stole the ball and got it to Johns. She was fouled again, and made two more free throws, making it a 59-55 final.

Johns led the Hematites with 19 points. Mariah Austin added 13, and Pruett scored 12.

West Iron jumped off to an 11-1 lead in the first quarter, but the Hematites rallied to take a 26-23 lead. It was back-and-forth the rest of the way.

Eden Golliher had 15 points and Nelson added 12 for the Wykons.

Ishpeming faces St. Ignace in the regional championship game Thursday night in Escanaba. Game time is set for 7:00.

Click the thumbnails in the ARTICLE HIGHLIGHTS box above to see photos, video highlights.