BEAST MODE: Spindler Leads Braves Past Flivvers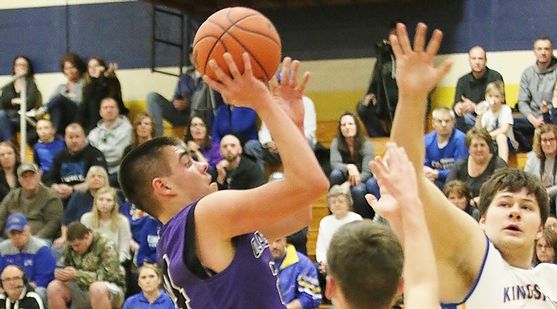 KINGSFORD---On Monday night, it was Reece Castor who went off for 31 points as the Gladstone Braves opened the post-season with a win over the Escanaba Eskymos.

On Wednesday night, it was Brad Spindler's turn to dominate.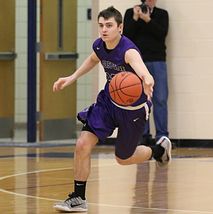 Spindler scored 30 points and pulled down 17 rebounds as the Braves overwhelmed the Kingsford Flivvers, 73-53, in a Class B district semifinal game in Kingsford.

The result sent the Braves into the district championship game against Boyne City, which topped Sault Ste. Marie, 53-38, in the other semifinal in lower Michigan.

Spindler knocked down a triple on the Braves' first posession, and was impossible for the Flivvers to contain all night long.

The Gladstone offense moved the ball crsiply, and the Flivvers could not keep pace. The Braves made five three-point baskets in the first quarter: two each by Spindler and jared Ness, and one by Rudy Peterson.

Gladstone led, 21-14, after that first quarter, and expanded the lead to 38-24 at halftime. Spindler had nine more points in the second quarter, giving him 17 at the break.

The Braves put the Flivvers away in the third quarter by outscoring them, 23-10.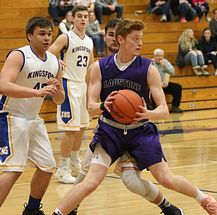 Kingsford got 22 points from Luke Terrian and 18 from Tyler Beauchamp, but received little secondary scoring.

The Braves, besides Spindler's 30 points, got 13 from Castor, 11 from Ness, and nine from Peterson.

Gladstone (16-5) will host Boyne City (16-6) in the championship game Friday night at 7:00. It will be broadcast live on WMXG-FM (Maverick 106.3).

Click the thumbnails in the ARTICLE HIGHLIGHTS box above to see photos taken by Brenda Crow, videos taken by Nate belleville. And click the AUDIO buttons to hear post-game comments from Spindler and Coach Dane Quigley.