WHAT A NIGHT!!! Northern, Tech Both Win In OT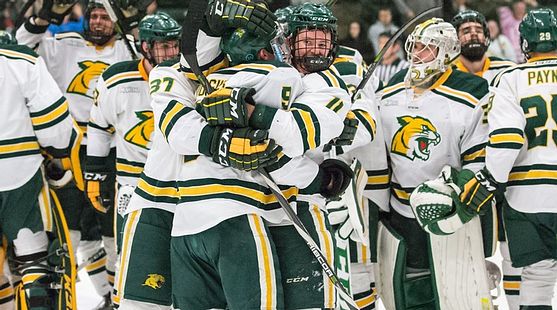 The Northern Michigan University Wildcats and Michigan Tech University Huskies both won overtime battles Sunday night in the WCHA semifinals, setting up a winner-take-all championship game for the conference title and an automatic NCAA tournament berth next Saturday night in Marquette.

Northern beat Bowling Green, 3-2, on a Troy Loggins goal late in the first overtime period. BGSU had tied the game with eight seconds left in regulation time, sending the game into overtime. Zach Diamantoni and Joseph Nardi had NMU's other goals.

About an hour laterm in Minnesota, Tech stunned top-seeded Minnesota State-Mankato, 2-1, on Jake Jackson's second goal of the night.

The WCHA Championship Game will be played next Saturday night at 7:07 at the Berry Events Center. It will be broadcast live on WUPT-FM (100.3 The Point), and on WUPF-FM (Eagle 107.3). And on-line at www.radioresultsnetwork.com.

Tickets for next Saturday's game go on sale at 8:00 Monday morning at the Berry Events Center box office. Season ticket holders have until Tuesday at 5 p.m. to pick up their tickets, and after that, those remaining tickets will be sold to the public.

Top photo credit: NMU Sports Information.

Bottom photo credit: Michigan Tech Athletics.