Michigan Tech Hockey Tops Northern Michigan 2-0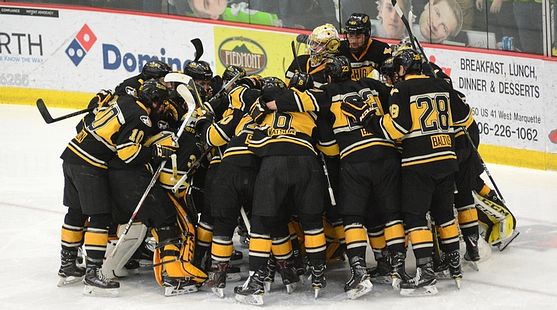 MARQUETTE---The Michigan Tech University hockey team won the WCHA conference championship and an NCAA Tournament bid, beating Northern Michigan, 2-0, Saturday night in Marquette. Greyson Reitmeier scored 5:36 into the second period, then Joel L'Esperance added an empty-netter with 47 seconds left in the game.



The Wildcats historic season comes to a close after reaching the conference championship game for the first time in eight seasons. NMU's 2017-18 win total reached the 25-win plateau for the first time since the 2001-02 campaign after the squad was picked to finish seventh in both preseason league polls.


Neither team was able to take an advantage in the opening period, with the score tied after the first 20 minutes of action. The Wildcats did outshoot the Huskies, 9-7, in the opening period. The tie at the end of the period marked the 16th time this season neither team was able to take a lead at the end of the opening 20 minutes.


MTU scored the first goal of the game early in the second period with Greyson Reitmeier finding the back of the net at the 5:36 mark. Both team's attempted nine shots in the period, but the one MTU shot proved to be the most important.


With just eight combines shots in the final period, neither team was able to find much traction offensively. Trying to tie the contest late, the Wildcats opted to pull their goaltender around the two-minute mark. The move proved costly as the Huskies found an empty net goal with under a minute to play. The goal increased the MTU advantage to a pair of goals, with the Huskies hanging on for the 2-0 victory.


Between the pipes, junior forward Atte Tolvanen (Vihti, Finland) recorded 19 stops to drop his goals against average for the season to 2.22, tied for fourth-best in program history. Tolvanen's 23 wins on the season are tied for fifth-most in a single campaign, while his 41 career wins are seventh best in Wildcat history.


Two more Wildcats entered the program record book after their standout seasons. Still leading the country, junior forward Adam Rockwood (Coquitlam, British Columbia) recorded 40 assists this season, 13th-most in NMU history.

Sophomore defenseman Philip Beaulieu (Duluth, Minnesota) now finds himself in the top-10 for goals, assists, and points by a defenseman for a single season with 11, 31, and 42.