BRESLIN BOUND: Dollar Bay Bolts Past Cedarville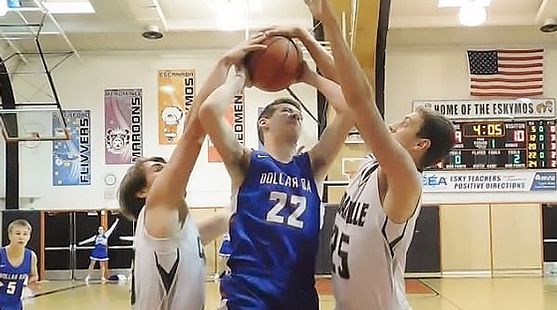 ESCANABA---Devin Schmitz scored 35 points and Jaden Janke added 23 to lead the Dollar Bay Blue Bolts to a 74-68 win over the Cedarville Trojans in a Class D state quarterfinal game Tuesday night in Escanaba.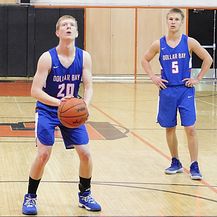 It will be the first-ever trip to Michigan State University's Breslin Center for Dollar Bay, which lost to eventual state champion North Central last March. This time, though, it is Dollar Bay's turn.

"Right now, it's like a dream come true," Schmitz said. "We've been waiting for this our whole lives, since elementary. I think we came out more intense. We really wanted to win this one, so we just put it all out on the table this game."

The tournament trail has not been easy for Dollar Bay, as the Blue Bolts had to battle past Rapid River and Carney-Nadeau in a pair of nailbiters last week in the regional tournament.

And Cedarville put up a fight Tuesday night as well.

The first quarter was up-and-down, with the Trojans holding a 17-16 lead late in the quarter. The Bolts turned that around in a hurry, with Janke driving for a basket, and Schmitz getting a steal and a lay-up. Dollar Bay led, 20-17, after eight minutes.

The Bolts shot well during the second quarter as well, scoring 23 points, and building a 43-30 lead at halftime. Dollar Bay held double-digit leads until the final minutes, when Cedarville got back-shot triples by Chase Fisher and Dakota Fairchild.

But Trojans couldn't get any closer than four points as Schmitz went to the line and made six straight free throws. And then, it was celebration time for Dollar Bay.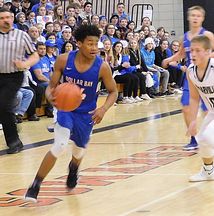 Besides the 35 points for Schmitz and the 23 for Janke, Jacob Iacono had eleven points for the Bolts, who stayed perfect on the season with a 25-0 record.

Fairchild led the Trojans (21-4) with 24 points. Jarrin Masuga added 13 points.

Dollar Bay now faces the ultimate challenge on Thursday in East Lansing, as the Bolts face Southfield Christian.

The Eagles beat Flint International, 88-53, in another quarterfinal on Tuesday. They will be heavily favored on Thursday, but, the Eagles were favored last year, too, when North Central shocked them in the semifinal.

The Dollar Bay-Southfield Christian game will be broadcast live in Delta County on WCHT-AM (NewsTalk 600), and on-line at www.rrnsports.com at 5:20 p.m.

Click the thumbnails in the ARTICLE HIGHLIGHTS box above to see photos, videos from Tuesday night's game.