80 AND COUNTING: Strollers Honored At Tourney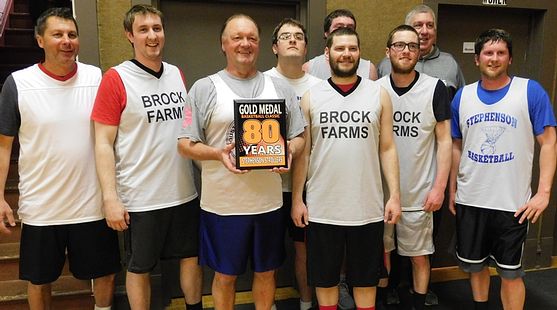 HERMANSVILLE---The Gold Medal Classic basketball tournament continued on Friday in Hermansville, with the Stephenson Strollers (pictured above) taking part for the 80th straight year. That is how long the tournament has been run.

The Strollers lost to Carney Juice Promotions, 80-67, in the Class E game.

Joe Pontbriand had 25 points for Carney, with Preston Lauscher and Brad Spindler each adding 14 points. Erik Spindler chipped in 12 points.

The Strollers got 24 points from Jake Brock and 20 points from Josh Granquist in a losing effort.

Earlier on Friday, in Class EE action, Norway Dewey's Brown Bread rallied to beat Bark River Briggs, 62-54. Bark River led, 40-34, at halftime, but Norway scored eleven straight points in the second half to take control of the game.

Norway's run reached 21-6 when the lead grew to 55-46 late in the second half.

Justin Bal led Norway with 22 points.

Logan Heim had 14 points and Jace Briggs added 12 for Bark River in a losing effort.

Click the thumbnails in the ARTICLE HIGHLIGHTS box above to see photos and video highlights from some of Friday's action.

Results from Thursday night:
Clss E: Nadeau Pharmaceutical 65, Hermansville. CTR44 51
Leading Scorers: Nadeau: Mike Polfus 25. CTR: Cody Whitens. 19

Class E:Massie Country Market Bark River 66, Felch. Solbergs Supper Club. 64
Solbergs: Eric Schemmel 16, Janssen Baij 16. Massie: Matt Richer Jr. 19.

Note: Solberg's appearing in Hermansville for 63rd straight year.

Class EE: Hermansville Whitens Dry Kiln 74, H&N Inc. Iron Mountain. 49
Dry Kiln: Josh Granquist 21. H&N. Trent Heath 18.