DAY FOUR: Bloniarz Farms Takes 'Class B' Trophy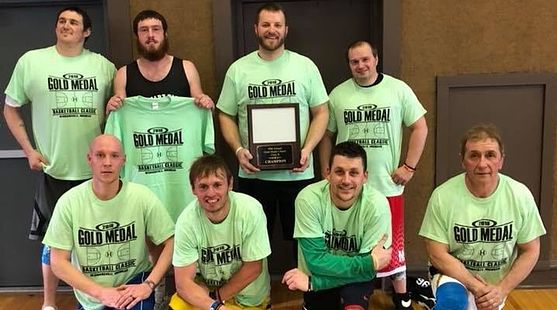 HERMANSVILLE---The fourth day of the Gold Medal Classic basketball tournament was held in Hermansville on Sunday. There were nine games held throughout the day.

In the first championship trophy handed out, Bark River's Bloniarz Farms defeated Lee's Greenery of Powers twice to win the Class B championship. Bloniarz won the morning game ended up 74-68, and won the championship game in the evening, 74-59.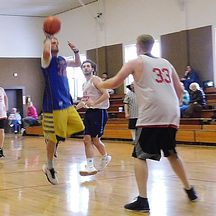 Grand Valley State University graduate Jason Boucher, who also played professionally in Germany a decade ago, led Bloniarz with 29 points in the championship game. He received the Frank Rodman Most Valuable Player award.

Jake Brock added 17 points.

Lee's Greenery got 17 points from Trevor Krizinski and 13 from Bobby Kleiman.

In the final game of the night, Iron River Shamco defeated Superior Welding of Hermansville, 76-51, in a Class C matchup.

The Superior Welding had a roster full of North Central, Norway, and Carney-Nadeau students. The Shamco team had a veteran roster led by Forest Park and Michigan Tech star Bryan LaChappelle.

On Sunday, the game was tied at 26-26, before the Shamco team took control, especially in the paint. Four players scored in double figures, led by LaChappelle's 18 points.

Paul Angeli added 17 points.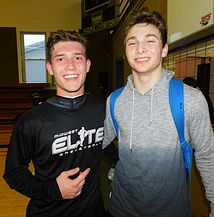 For Superior Welding, NCA senior Lucas Dombrowski scored 24 points and Norway senior Micah Wilson added 18. The rest of the team, however, combined for nine.

Also on Sunday, in a Class E semifinal game, Carney Juice Promotions beat Bark River Massey Country Market, 89-48.

Gladstone High School senior Brad Spindler scored 29 points and Carney-Nadeau senior Preston Lauscher added 20 for Juice Promotions.

The tournament returns to action on Wednesday.

Click the thumbnails in the ARTICLE HIGHLIGHTS box above to see photos, video clips, from some of Sunday's action.

SUNDAY'S GOLD MEDAL SCOREBOARD
Class D: Carney Juice Promotions 101, Bark River Briggs 76
Class D: Iron River Shamco 76, Wallace Jims Plumbing 47
Class B semifinal: Perronville Bloniarz Farms 74, Powers Lee's Greenery 68
Class D: Escanaba Spindler Financial 70, Menominee Dexters 64
Class C Semi: Menominee Miller 71, Powers R-Place 61 (OT)
Class B: Powers Lee's Greenery 52, Crystal Falls McNeil Oilers 44
Class E Semifinal: Carney Juice Promotions 89, Bark River Massie's Market 48
Class B Championship: Perronville Bloniarz Farms 74, Powers Lee's Greenery 59
Class C: Shamco Iron River 76, Hermansville Superior Welding 51