Copper Country Hockey Wins National Title Again!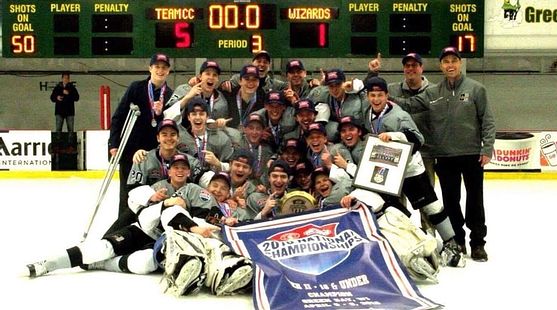 GREEN BAY---Team Copper Country won the USA Hockey Tier II Under-18 national championship on Monday, beating the Wonderland Wizards out of Bridgeport, Connecticut, 5-1, in Green Bay.

Colton Salani, Dawson McKay, Brent Loukus, Teddy Randell and Brendan Erickson all scored goals in Monday's championship game.

Dawson Kero earned the win in goal, stopping 16 of 17 shots.

Copper Country went undefeated in the five-day tournament.

Copper Country won its quarterfinal and semifinal games on Sunday.

In the quarterfinal, CC beat the Minnesota Moose, 4-1, as Marquette's Joe Phillips scored twice. Then in the semifinal, CC beat the Sylvania North Stars, 6-3, as Hancock's Randell scored twice. Kingsford's Nick Murvich and Daunte Fortner also scored.

The Copper Country program also won the national championship last spring.



| TIME | TEAM | SCORING PLAY | TEAM CC | WON WIZ |
| --- | --- | --- | --- | --- |
| 2nd / 8:05 | Team Copper Country | #8 Colton Salani (even strength) (#14 Patrick Donnelly, #3 Brendan Erickson) | 1 | 0 |
| 2nd / 16:47 | Team Copper Country | #7 Dawson McKay (even strength) (#19 Joseph Phillips, #9 Samuel Erkkila) | 2 | 0 |
| 3rd / 0:34 | Wonderland Wizards | #15 Thomas Richter (power play) | 2 | 1 |
| 3rd / 1:29 | Team Copper Country | #4 Brent Loukus (even strength) (#17 Joshua Vandenburg) | 3 | 1 |
| 3rd / 6:09 | Team Copper Country | #12 Teddy Randell (even strength) (#16 Bryce Randell) | 4 | 1 |
| 3rd / 14:45 | Team Copper Country | #3 Brendan Erickson (even strength) (#19 Joseph Phillips, #9 Samuel Erkkila) | 5 | 1 |