Hermansville Rallies From 17 Down To Top Norway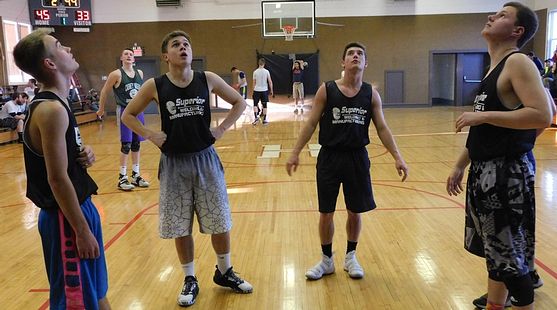 HERMANSVILLE---Hermansville Superior Welding rallied three times in the second half to beat Norway Seamless Gutters, 78-73, in a game that resembled a Class D high school All-Star game at the Gold Medal Classic Wednesday night.

Hermansville was made up of North Central High School students, plus Preston Lauscher from Carney-Nadeau and Ryan Arndt and Bryson Groos from Bark River-Harris.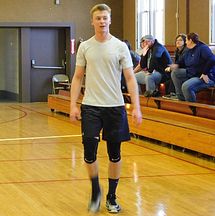 The Norway team had the Knights players, plus Carney-Nadeau's Jake Kleiman and Stephenson's Bryce Tharp. And it was a tale of two halves.

Norway, behind Lakeland College recruit Connor Ortman, and teammate Josh Plante, raced to a 45-33 lead at halftime as the Hermansville team couldn't knock down shots.

Four minutes into the second half, Norway's lead grew to 52-35, after a Kleiman basket.

But Hermansville went on a 14-0 run, led by Lauscher attacking the basket twice, NCA's Lucas Dombrowski hitting a triple and a driving layup, and Arndt nailing a triple.

Dombrowski tied the game at 55-55 with a three, but Norway's Adam Faull replied with back-to-back three-pointers for his only points of the game. It was 61-55.

Ortman had a big put-back and Kleiman scored two more baskets inside, include one on a nice cross-over dribble, and Norway led, 73-68, in the final minute of the game.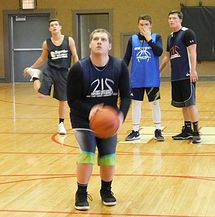 But the Hermansville team got a clutch three-point basket from Logan Heim to close to within two, then Dombrowski scored inside to tie the game at 73-73.

After a defensive stop, Hermansville went for the win, but Dombrowski was fouled with 6.6 seconds to play. He made the first free throw, but missed the second. Lauscher got the big offensive rebound and Ortman fouled him.

Lauscher made both foul shots with 5.3 seconds left to make it 76-73, then the Hermansville team used a "foul to give", forcing a sideline inbounds pass with three seconds left.

Hermansville fouled again, to prevent a potential game-tying triple, and the front end of the one-and-one was no good. Arndt got the rebound, was fouled, and made two free throws to seal the big Class E comback victory.

Lauscher led the way with 28 points, while Dombrowski added 17 and Bryson Groos chipped in 11. Ortman had 22 and Josh Plante scored 12 for Norway.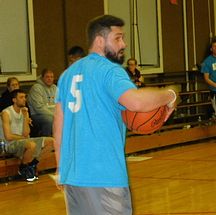 CLASS EE: DAGGETT KAKUKS 64, LAASE HYDRAULIC CONSULTING 49---The Daggett team was playing in its 60th Gold Medal Classic, with a roster full of ex-Menominee Marroons players. Tyler Eland was hot early, scoring 15 points in the first half as Daggett took a 45-22 lead. The Laase team included three former Bark River-Harris Broncos and three members of the Dollar Bay High School team that made the Class D semifinals last month: Devin Schmitz, Jaden Janke, and Brandon Thompson.

CLASS C SEMIFINAL: Iron River Shamco beat Menominee Dexters, 73-68.

Click the thumbnails in the ARTICLE HIGHLIGHTS box above to see photos, video highlights from the Class E and Class EE contests.