Bal, Kleiman Help Norway Earn Gold Medal Victory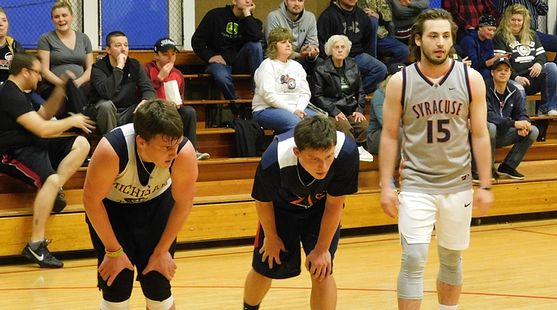 HERMANSVILLE---Justin Bal scored 22 points and Bobby Kleiman added 14 as Norway Dewey's Brown Bread defeated Hermansville Superior Welding, 59-46, in a Class EE semifinal game Thursday night at the Gold Medal Classic.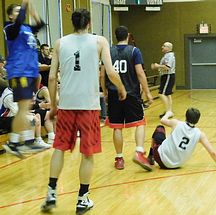 It was one of the lower-scoring games in the entire multi-class tournament, with Norway eeking out a 21-18 halftime lead.

The defensive pressure on the ball was strong for the Dickinson County men in the second half, and the Hermansville team...made up of North Central, Bark River-Harris, and Carney-Nadeau seniors...shot poorly from the field.

The pressence of Mark Roell was also a factor for Dewey's Bread in the paint.

Kleiman hit a pair of triples less than two minutes apart in the second half after the Hermansville squad had shaved its deficit to seven points. Preston Lauscher scored 18 points to lead Hermansville. No other players reached double figures in scoring.

Norway will face Hermansville Dry Kiln in the Class EE championship game this weekend, after Dry Kiln beat Hermansville Wildwood, 64-57, in Thursday's second semifinal. North Centrak graduate Josh Granquist scored 34 points for Dry Kiln.

In Class E action on Thursday, Daggett Kakuks defeated Nadeau Pharmaceutical, 73-56. Tyler Eland scored 21 points for the Kakuks. Trevor Ekberg had 15 for Nadeau.

FRIDAY'S SCHEDULE (All times Central)
6:00---Class D semifinal: Iron River Shamco vs Carney Juice Promotions
7:00---Class A: Escanaba Drifters vs Carney Juice Promotions
8:00---Class C Championship: Iron River Shamco vs Menominee Miller
9:00---Class D semifinal: Escanaba Spindler Financial vs Powers R-Place

Click the thumbnails in the ARTICLE HIGHLIGHTS box above to see photos and videos from the Norway-Hermansville Class EE game.