Escanaba Tennis Ties Negaunee; Gladstone Loses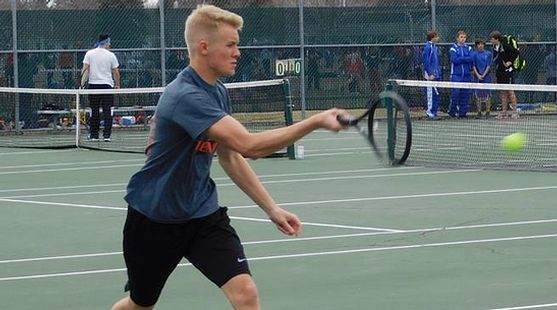 ESCANABA---The Escanaba High School tennis team played to a 4-4 tie with the defending Upper Peninsula champion Negaunee Miners on Thursday, while many of the younger kids swept Menominee, 8-0, in another dual meet.

Against Negaunee, Escanaba got wins at #2 and #4 singles, with Josh Grassel earning a marathon victory in the day's top match. Grassel defeated Chris Kumpala lost the first set on a 9-7 tiebreak, but then rallied to win the next two sets, 6-1, 6-3.

Cody Stevens also had a long match at #4 singles, beating Negaunee's Will Luke in three sets, 7-5, 3-6, 7-4. Negaunee got wins from Luke Skewis at #1 singles, and Thomas Sertich at #3 singles...both in straight sets.

In doubles, the top Eskymo team of Adam Claes and Brandon Kangas turned back Negaunee's Jackson Sager and Drew Lindberg on an 8-6 tiebreak in the first set, followed by a 6-3 win in the second set. Escanaba also got a marathon win at #2 doubles, with Soren Thompson and Alex Valentine beating the Miner team of Peyton Anderson and Jake Larson. The Eskymos lost the first set, 6-3, before rallying to win, 6-2 and 6-4.

Negaunee's #3 doubles team of Ander Sorensen and Mason Hemmila won in straight sets, as did the #4 doubles team of Evan Hassell and Tom Kinjorski.

Against Menominee, the Eskymos won all six flights of the flights that were played in straight sets, and they took the #4 singles and #4 doubles flights by forfeit.

Grassell and Stevens both won singles matches for the second time on the afternoon, and the doubles team of Valentine and Thompson won their match, 6-0, 6-0.

Escanaba hosts Westwood Friday afternoon.

KINGSFORD 7, GLADSTONE 1---The Braves got one victory Thursday, as the #4 doubles team of Ethan Stoken and Colin Smith defeated Kingsford's team, 7-5, 6-3.

"Great effort by Colin and Ethan," Gladstone Coach Dan Williams said. "Colin only joined the team this week and has been learning quickly. Both him and Ethan work well together, and that is helping them with the results they are getting."

Smith, however, dove for a ball and landed on his hand, injuring his thumb. Williams said that Smith would need X-Rays on the hand. Also, #1 doubles player Tyler Barteld rolled his ankle and couldn't continue in his match with partner Colby Torvinen.

Kingsford won every match in straight sets, although Williams said he was happy with Danny Pederson's performance at #2 singles (6-2, 6-4 loss to Nick McCole).

Gladstone takes on Westwood on Friday.