ON FIRE: Belanger Leads Rockets Past Manistique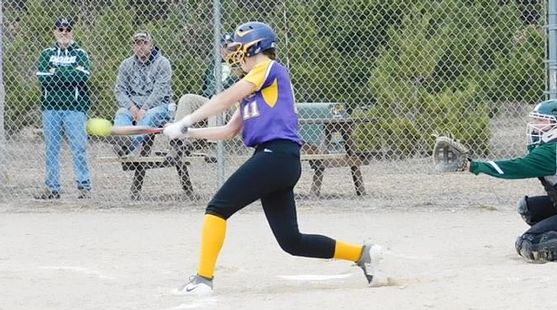 RAPID RIVER---Freshman Natalie Belanger kept up her torrid hitting with a home run and two doubles, and she pitched two scoreless innings Wednesday as Rapid River beat Manistique, 11-0, in Rapid River. The game was called by the mercy rule in the fifth inning when Belanger launched a two-run homer to left-center field.

Then in the second game, Rapid River won, 23-0, in three innings.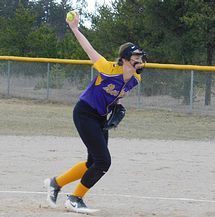 The home run to end the opener was the fifth for Belanger in the past five games, and two of them were grand slam home runs.

"She's been a one-man wrecking crew the last six games," Rapid River Manager George Kanyuh said. "She's been in attack mode. I have no illusions that it will keep going like this. We'll hit our bumps in the road. It's fun to see right now."

In the second game, Belanger went 4-for-4 with three doubles and s single..

In the last six games, Belanger has 17 hits in 23 at-bats, with five runs score, 25 RBI and 15 runs scored. She had two home runs and ten RBI in Monday's sweep of Westwood.

In the first game, Brittany Schwartz started the game in the circle, but left with a sore elbow after throwing the first inning.

Belanger threw the next two innings, and Lexi Trombley pitched the final two innings. Trombley added two singles and two RBI, and Erica Proehl had a pair of doubles.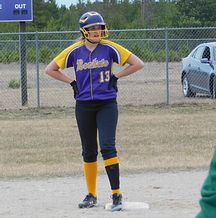 In the second game, Trombley went 4-for-4 and Schwartz went 2-for-3, with one of those hits being a two-run homer.

The Rockets have now won six straight games after being shut out twice last week by Escanaba, the state's third-ranked Division Three team.

Rapid River (9-5) is back on the field Thursday when Bark River-Harris comes to town for a doubleheader, starting at 4:00.

Catch the broadcast on Eagle 107.3 FM, and on-line at www.radioresultsnetwork.com.

Click the thumbnails in the ARTICLE HIGHLIGHTS box above to see photos, videos from Wednesday's game.