BACKYARD BATTLE: Broncos Blank Eskymos, 5-0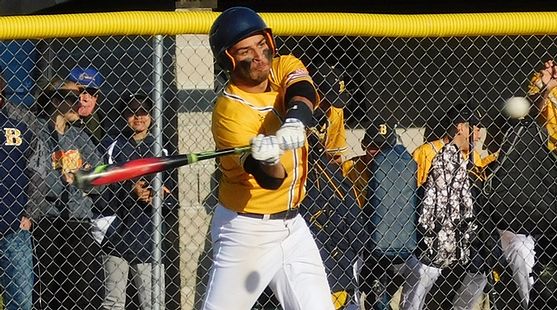 BARK RIVER---The Bark River-Harris Broncos beat the Escanaba Eskymos for the first time in the four-year history of the BR-H baseball program Monday, 5-0, in Bark River.

Ryan Arndt threw six innings of two-hit ball and Matt Richer had three hits to lead the Bronco attack. Mason Korhonen tossed the final inning for BR-H.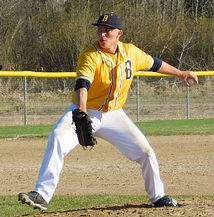 "It's big for our confidence and the program," Arndt said. "I mean, this has been four years in the making. This is a game that we've all had marked down on our calendar. This just feels great. One of the games that I've been looking forward to. I can't even describe how good it feels."

The Broncos did it against the ace of the Eskymo staff, senior Johnny Schlenvogt, who threw four-a-third innings and was charged with four runs (two earned).

"Seeing their best pitcher today gives us even more confidence," said Arndt, who will play basketball next fall at Bay College. "It just shows that they have respect for us, and that they know that we're going to be coming when we play them."

Arndt was strong from the beginning, striking out two batters in each of the first three innings. He ended up striking out eight batters, but started to tire in the late innings, walking five men. But the Eskymos could not get the big hit against him.

BR-H (4-0) grabbed a 2-0 lead in the third inning when Richer led off with a single, got bunted to second by Mason Korhonen, and after Kadin Mustafa walked, Arndt delivered the RBI hit. Logan Heim followed with an RBI double to right field.


In the fifth inning, things fell apart for Schlenvogt and the Eskymos as they committed three errors on the infield. And when Grant LaMarche came on to pitch, Sam Hall greeted him with an RBI double.

Richer added an RBI single.

"I saw some good pitches to hit, and luckily, I hit them," Richer said. "I've known Johnny for years. I've known him through travel ball, and I knew he was going to give me the fast ball. This was a long time coming. We have a lot of confidence. We know we have really good pitching, we've got good hitters, and we can field the ball."

Escanaba fell to 8-3 on the season and will travel to Marquette on Wednesday, and then the Eskymos travel to Gladstone on Thursday for another rivalry contest.

The Thursday game will be broadcast on WCHT-AM (NewsTalk 600) at 6:15.

Bark River-Harris travels to Superior Central for a doubleheader on Thursday, and then participates in the Escanaba Invitational on Saturday with games at 9:30 a.m. against Sault Ste. Marie and at 2:30 p.m. against Kingsford. The morning game against the Soo will be broadcast live on WUPF-FM (Eagle 107.3) starting at 9 a.m.

Click the thumbnails in the ARTICLE HIGHLIGHTS box above to see photos and listen to radio interviews. Thanks to Mike Pankow with photo help!