LIVING UP TO THE HYPE: Millington Wins Battle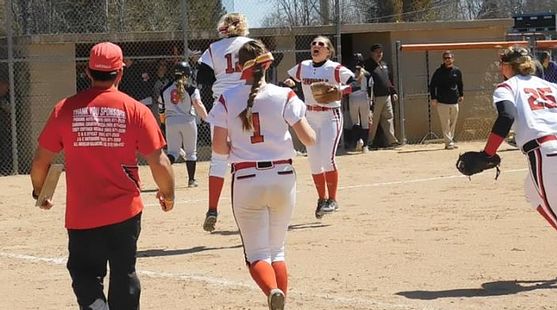 ESCANABA---It's not often that a high school sporting event lives up to all of the hype that precedes it. But on Saturday in Escanaba, the softball battle between the Escanaba Eskymos and Millington Cardinals met...and exceeded...the expectations.

In a battle of two teams with top-notch line-ups and NCAA-Division One college pitchers, the Cardinals left the U.P. with a thrilling 2-1 win over the Eskymos.


Cardinals pitcher Gabbie Sherman, who has committed to Kent State University, outdueled Escanaba pitcher Gabi Salo, who has committed to the University of Wisconsin

But it was a game that kept the huge Lemmerand Park crowd on the edge of its seats all the way until the final out.

"It was close," Escanaba Coach Jamie Segorski said. "We knew it would be. It was a good game. We knew that whoever squared up on one first would be in the driver's seat. "

Millington, ranked #2 in the state in Division Three by the Michigan High School Softball Coaches Association, scored its only runs on a towering home run to right field by Leah Denome. It went over the fence and onto the new hill that was built during the off-season, along with a new parking lot.

Elizabeth Bees had left off with a single and scored in front of her.

Besides those two hits, Salo allowed only one more base hit, and she struck out 12 batters, walking one, and hitting another. But Sherman was just a bit tougher.

She struck out 16 Eskymos, including eight of the first nine girls she faced. But the Escanaba hitters gradually started to get scoring chances, with Lexi Chaillier hitting two long fly balls that were caught after being knocked down by the Lake Michigan wind.

"If she hits those two hours earlier when the wind was going the other way, they would have been gone," Segorski said. "But we knew they had a real good team, so it was important for us to get them up here to play."


Escanaba closed to within 2-1 in the fourth inning when Chaillier was safe on an error, stole second, and scored on a single by Maddy Griffin. Griffin went to second on the throw, but was stranded when Heather Bergstrom struck out.

In the fifth inning, Dakota Cloutier roped one toward left field, but she was robbed by shortstop Sabrina Gates. And as bad luck goes, Salo followed with a single.

In the sixth inning, Taylor Gauthier's pop fly with two out found a hole and landed for a double. But Griffin popped up to end the inning.

Escanaba had one final chance when Bergstrom ripped a shot to right field for a base hit. But the Eskymos couldn't get the bunt down and Sherman struck out the final three hitters, ending the game, perhaps fittingly, by fanning Salo.

Escanaba bounced back later in the day to pound Negaunee, 15-0, in a game called by the mercy rule in the bottom of the fourth inning.

On Friday, Escanaba opened the tournament by beating Marshfield, Wis., 10-0.

Salo pitched a two-hitter, striking out eleven batters.

Savannah Barron, Chaillier, and Cloutier all hit home runs for the Eskymos

With Saturday night's win over Negaunee, the Eskymos improved to 14-2 on the season and will host Gladstone in a doubleheader on Tuesday. That twinbill will be broadcast live on WCHT-AM (NewsTalk 600) and at www.rrnsports.com.

Click the thumbnails in the ARTICLE HIGHLIGHTS box above to see photos, videos taken by Mary Gauthier, and hear comments from Segorski.