Eskymos Wrap Up Busy Week With Baseball Sweep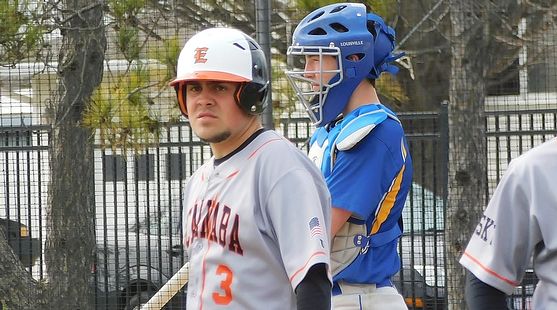 ESCANABA---The Escanaba High School baseball team recovered from losses to Bark River-Harris and Gladstone by posting a pair of wins on Saturday.

The Eskymos beat Sault Ste. Marie, 6-4, and Kingsford, 8-4, to get their season back on track heading into another busy week of games and practices.

In Saturday's opener, the Eskymos built a 6-1 lead and then hung on as the Blue Devils scored three runs in the final inning. Johnny Schlenvogt bounced back from his earlier loss in Bark River by throwing six strong innings before giving way to Craig Kamin.


Kamin put out the fire to earn the save.

Courage Krueger drove in two runs in the Eskymo victory.

Later on Saturday, the Eskymos jumped to a 4-0 lead over the Flivvers in a first inning that included RBI hits by Schlenvogt and Grant LaMarche.

Escanaba had the bases loaded with two out in the second inning, but Josh Bruntjens was out trying to steal home. Kingsford scored three times in the third inning on an RBI single by Noah Wilcox, a sacrifice fly by Jesse Julian, and an Esky error.

Escanaba got two runs back in the bottom of the fourth when freshman catcher got his third straight base hit. This one was an RBI double that scored Jake LaFave, who had started the inning by beating out an infield hit.

Schlenvogt added an RBI single to make it 6-3.

The teams exchanged unearmed runs from there. In fact, Kingsford had a total of seven errors while Escanaba had two. The defense wasn't all bad, however, as LaFave made a diving catch in left field to rob Kingsford's Marcus Kazianka of extra bases.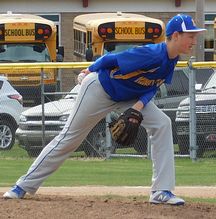 Julian had an RBI double in the final inning for the Flivvers, but could get no closer.

Krueger pitched four innings to earn the win, giving up three runs on five hits. Noah Lancour threw the last three innings, giving up one run on two hits. He struck out five batters in those three innings and earned the save.

Andrew Paupore took the loss for the Flivvers, allowing four runs (one earned) on six hits in three innings of work. Hunter Lindeman tossed the final four innings, giving up four runs (three earned) on six base hits.

Lawson led the way for the Eskymos with three hits, while Schlenvogt contributed two hits, a walk, and he drove in two runs.

Lancour added two safrifice bunts for the Eskymos in the later innings, and Bruntjens also had a successful sacrifice.

Escanaba improved to 10-4 on the season, and will face Kingsford again on Tuesday for Parent's Night. It's a doubleheader that starts at 4:30 ET.

The JV Eskymos will host Stephenson Monday afternoon at 4:30.

Click the thumbnails in the ARTICLE HIGHLIGHTS box above to see photos and listen to post-game comments from Tyler Lawson.