DOUBLES DEBUT: Holm, Pederson Finally Paired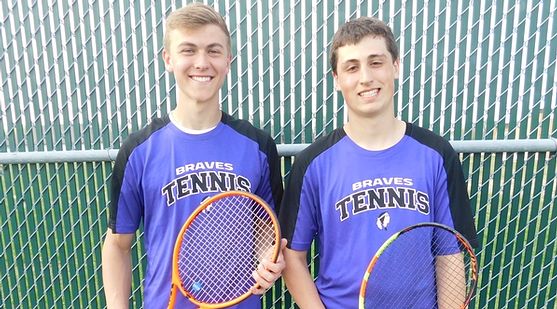 ESCANABA---Gladstone High School seniors Danny Pederson and Sean Holm finally got to play together on Wednesday as the Braves took on the Escanaba Eskymos in tennis in Escanaba.

The Braves' top two singles players were at #1 doubles against Escanaba's Addam Claes and Brandon Kangas. The Eskymo duo won a three-set marathon, 2-6, 6-2, 7-5.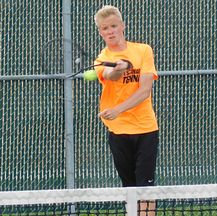 "It was a lot of fun," Pederson said. "I like the change. It was nice to switch it up a little bit. We wanted to all year."

"It was needed," Holm said, then joked. "I don't know, I just got sick of playing singles."

After the Braves seniors won the first set, Claes and Kangas won the second set, with Claes and Holm dueling several times with nice exchanges at the net.

In the third set, the Eskymos jumped to a 5-1 lead, but Pederson and Holm broke serve twice.

That tied the set at 5-5, but Kangas blistered two straight aces to win a point, then in the next game, Claes buried two shots from in close to clinch the match.

Escanaba Coach Tom Penegor switched up his line-up, but his Eskymos still won the team score, sweeping all eight flights, 8-0.

And besides losing the match, there was one more piece of disappointment for Holm and Pederson. Braves Coach Dan Williams had promised to take them to dinner after the match, but only if they won. Maybe next time, guys!

Click the thumbnails in the ARTICLE HIGHLIGHTS box above to see photos, video highlights, and comments from Holm and Pederson.