WINNING UGLY: Braves Overcome Mistakes, 3-2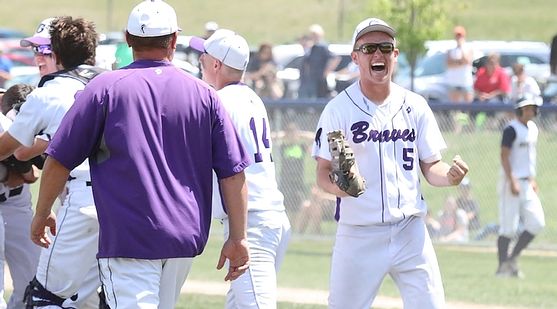 PETOSKEY---The Gladstone High School baseball team hit into four double plays, had no RBI hits, and could not get down a bunt on Tuesday. But the Braves still found a way to beat Standish-Sterling, 3-2, in a state quarterfinal contest in Petoskey.

Gladstone advances to the state semifinals at Michigan State University on Friday against defending state champion Madison Heights Bishop Foley.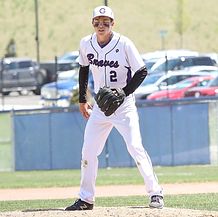 The Braves got a gutsy pitching performance out of Carson Shea, who threw 58 pitches in releif during Saturday's upset win over Traverse City St. Francis. On Tuesday, Shea threw all seven innings, scattering six base hits, allowing no earned runs, and no walks.

"It was pretty good," Shea said of his pitching. "My fastball was working. My curve was a little shaky. But with the defense behind me, I knew we could get the win. I'm going to enjoy the moment, for sure. It's my first time (going to Michigan State University to play). I'm just excited to do it with this team."

Gladstone wasn't able to give Shea any offensive support, however.

The Braves failed in several attempts to get down a sacrifice bunt, and that led to the team hitting into three double plays on the infield. A baserunning error at third base on a pop fly to right field also counted as a double play, and senior Braeden Lamberg was thrown out trying to go from first to third on a wild pitch.

"We didn't get our bats going or get our bunts down," Gladstone Manager Don Lauscher said. "We just dodn't play very well, and I'm a little disappointed. But how many teams are left in the state? Four? We're going to Michigan State, so we're happy about that. But the focus and discipline had to be there, and I sure didn't see that today."

"We didn't come out and hit the ball like we should have," Gladstone third baseman Lucas Weinert said. "We still made the plays in the field, but we didn't hit the ball early."

Standish-Sterling was able to stay in the game because it was able to get down four sacrific bunts: two each by Clay Crouterfield and Clay Vallud.

Crouterfield's second bunt was big in the third inning because it put runners at second and third, and both runners scored on Hunter Nelson's pop fly to right field that was nearly caught by a diving Braves second baseman Zach Hanson.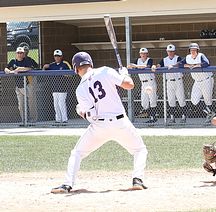 "When we went down, our energy picked up, because we knewwe had to come back," Weinert said. "We knew we could come back. Then we hit just enough at the end."

Gladstone finally scored in the fifth inning when Owen Hanson walked and Lucas Weinert followed with a base hit.

Jared Crow put down a perfect bunt single up the third base line to load the bases with no outs. The Panthers almost got out of the jam when Ben Kelly popped up and Caly Cole hit one to Keagan Wendel at short.

It appeared to be yet another double play when Wendel touched second base, but his throw to first base was off target, and two runs scored, making it 2-2.

In the sixth inning, Cody Frappier was hit by a pitch (again), and Dan Martin drew a walk. But Shea hit into a 6-3 double play after not getting the bunt down, and it looked like the third out when Owen Hanson hit one up the first base line. The pitcher fielded it, but somehow, Hanson avoided the tag. A hurried throw to first base was high.

That allowed courtesy runner Caden Alworden to score, making it 3-2.


But it wouldn't be a Braves game without high drama at the end. In the bottom of the seventh, Cooper Gordon led off with a single, then Noland Raymond clubbed one to deep left-center field.

Cole raced over into the gap and hauled it in for the second out, saving the tying run.

With two out, Crouterfield also singled. With runners at first and second, Wendel hit one to Weinert at third. The throw across to first was true, and another Braves celebration was on.

"I was thinking 'I better get this ball, I better get this out, we want to go home," Weinert said. "We have some more games to play! I was super-excited. I was screaming already. The ball wasn't even to his (first baseman Jared Crow's) glove yet."

Gladstone (34-4) will play in the state semifinals against defending state champion Madison Heights Bishop Foley (18-17-1), which beat New Lothrop, 8-1.

Game time is 2:30 from MSU's McLane Stadium. The game will be broadcast on WCHT-AM (NewsTalk 600) starting after the 2:00 news Friday afternoon.

Click the thumbnails in the ARTICLE HIGHLIGHTS box above to see photos taken by Brenda Crow, and videos taken by Laura Lamberg. Also, listen to post-game comments from Weinert, and pre-game interviews from Cole, the Hanson brothers, and Shea. And a couple radio replays.