Escanaba Girls Hang On For 1st State Tourney Win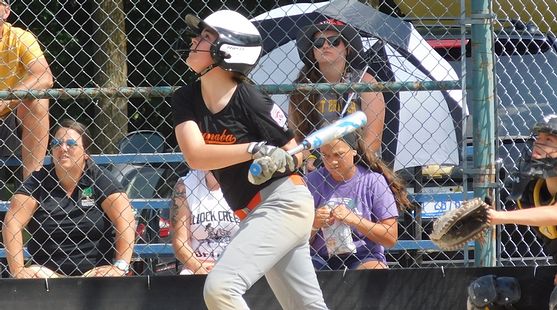 SANFORD, Mich.---Sometimes in softball, it's not how many base hits you get, it's when you get them. Coaches always talk about "timely hits", and the Escanaba Major Little League All-Stars (age 11-12) got some big ones as they opened state tournament play on Wednesday in downstate Sanford.

Escanaba came away with a 6-4 win over Midland Bullock Creek after Carley McInerney started the game with a home run and two girls came through with two-out RBI hits.

Combined with an Aubrey Stropich complete game in the circle, and you've got a W.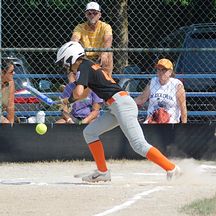 McInerney smoked one to the right-center field gap, and then turned on her speed, to give Escanaba a big boost right off the bat.

Then in the second inning, Escanaba's #9 hitter, Brooklyn Pendergraft was down two strikes with two outs and two runners on when she lofted a fly ball to right-center field that landed for a two-run single.

Then in the third inning, with two outs, Taylor Forvilly also got an RBI single, with two strikes on her, to brunf Izzy Braun home with another clutch run.

Bullock Creek also got a key contribution off the bench as Emmah Hanson smoked a solo home run to the outfield fence in the fifth inning to break up Stropich's shutout.

In the bottom of the inning, Hanson raced over into the outfield gap and grabbed a hot shot by Emma Parlett that would have likely been another home run on the very hard and short-cut grass outfield. Escanaba did score twice in that inning on an RBI hit by Stropich, and a 6-3 grounder by Braun with a runner on third base.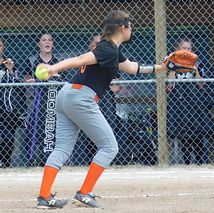 Bullock Creek mounted a challenge in the top of the sixth inning, scoring three runs, two of them on a hit over the first base bag by Avery Campau.

But with the tying run at the plate, Stropich got three straight outs to end the ballgame.

Stropich threw all six innings, allowing four runs on six hits. She struck out six batters and walked only one. Grace Stern also pitched a complete game for Bullock Creek.

Before the game, the Escanaba girls joined the other seven state-qualifying teams in Opening Ceremonies hosted by the Great Lakes Loons baseball club. The girls posed for photos with the team's mascot.

Escanaba faces West Branch on Thursday at 1:00.

West Branch lost to Tecumseh, 5-3, in the Wednesday evening game. The broadcast on WCHT-AM (NewsTalk 600) and on www.rrnsports.com starts at 12:40 ET.

Click the thumbnails in the ARTICLE HIGHLIGHTS box above to see photos and videos, and listen to interviews with Forvilly, Pedergraft, and Escanaba Manager Todd Milkiewicz.