DOME, SWEET DOME: Wildcats Hold Off Falcons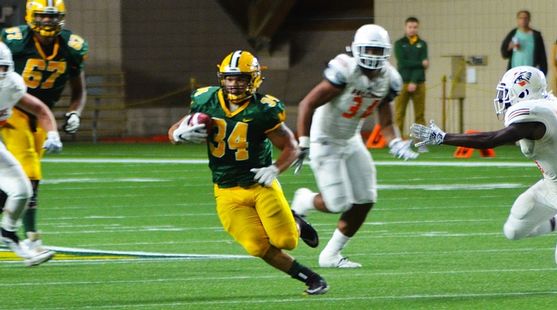 MARQUETTE---The Northern Michigan University football team picked up its first victory of the season Saturday, turning back Texas-Permian Basin, 27-22, at the Superior Dome. Jake Mayon rushed for 224 yards and a touchdown, and quarterback Latrell Giles hooked up with Ben Loutsis for the second straight week with a TD pass.

"We kept finding a way to battle back," NMU CoachKyle Nystrom said. "When we needed something on offense, we got it. We'll take it. I appreciate the win, and we'll get better and move on to next week."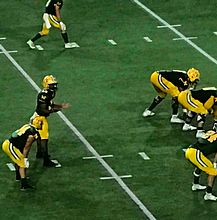 The game was not secure until Giles threw a 30-yard pass to Ravon Johnson with less than two minutes left on a key third down call.

That was Johnson's only catch of the game, but it was a big one, as he literally battled the defender for the ball.

"Ravon saved us," Nystrom said. "It was beautiful. And it was great for Latrell to throw it up to him. That's what he does. I see him do that every day in practice. He's that type of receiver. I'm happy for Ravon. He's a great kid, and when we needed him to make a big play, he came through and made it for us."

The Wildcat defense held its own against the Falcons' hurry-up spread offense, with Jake Dudeck leading the way with seven tackles. The Wildcats had six tackles for loss.

"We had some problems with the screen game again," Nystrom said. "We need tonkeep working it, but we've just got to get better at that. We gave up the 'smash-fade' a little bit, but we kept finding a way to battle back."

NMU controlled the game with its running attack, and the 'Cats dominated the time of possession with 40 minutes and 15 seconds, compared to 19:45 for UTPB.

Part of that is attributed to the Falcons' hurry-up offense, but the NMU ability to run the football had UTPB on its heels for most of the afternoon.

Still, the Falcons scored a pair of fourth quarter touchdowns to make it a tight finish.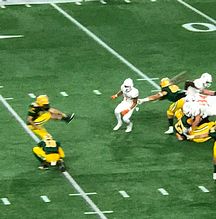 NMU scored on its opening possession as Deandre Caldwell scored on a 23-yard run, capping a 65-yard drive.

The Wildcats got a defensive stop and then drove deep into Falcon territory, settling for a Daniel Riser 20-yard field gial to make it 10-0.

The Falcons closed to within 10-7 on the first play of the second quarter as quarterback Sam Allen found Ben Galaviz for an 18-yard touchdown.

But Giles, playing for a second week in place of injured starting quarterback Ryan Johnson, found Loutsis for a 15-yard touchdown on 3rd-and-8 with 1:27 left in the half.

Northern led, 17-7, at halftime, and had another time-consuming drive in the third quarter, going 73 yards in 13 plays. But the 'Cats couldn't punch it in, settling again for a short 21-yard field goal by Riser.

The Falcons went on a 60-yard drive of its own, but the NMU defense stiffened, yielding only a 32-yard Sergio Landeros field goal.

That made it 20-10, and the visitors closed to within 20-16 in the fourth quarter as Allen threw a 19-yard TD pass to Matt Leonard. The extra point, however, was blocked.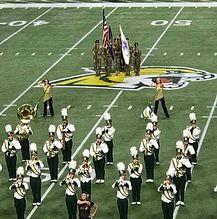 NMU went on another long drive, this time, 68 yards in ten plays, with Mayon capping the drive with a 24-yard touchdown run. Riser's extra point kick made it 27-16.

But UTPB came back up field again, using just 2:29 off the clock to cover 75 yards, with Allen again finding Leonard, this time, for a 31-yard touchdown.

The two-point conversion play failed, so the Wildcats maintained a 27-22 lead with 2:21 left.

The Falcons still had all three time outs remaining, so they did not try an on-side kick. The kick, as it turned out, was short, and was returned to midfield.

Mayon broke off one first down run, but the Wildcats faced 3rd-and-8 at the Falcon 40 yard line as UTPB used a pair of time outs. NMU could have run the ball and forced the Falcons to use the final time out, and thenpunt.

Instead, the 'Cats went for the deep ball, and Ravon Johnson pulled down an excellent catch in single coverage, battling the defender for possession.

The 30-yard gain set the Wildcats up at the nine yard line, and they ran out the clock from there.

Mayon, the reigning GLIAC Offensive Player of the Year, ended up with 224 yards on the ground. He now has 3,112 yards in his career, which is 731 shy of the school record.

NMU (1-1) hosts the eighth-ranked team in the country, Grand Valley State, next Saturday. Kickoff is set for 1:00.

The game will be broadcast live on WUPT-FM (100.3 The Point) and WCHT-AM (600), and on-line at www.rrnsports.com.

CLICK HERE for all of Saturday's statistics.

Click the thumbnails in the ARTICLE HIGHLIGHTS box above to see video clips and listen to halftime interviews with Ben Loutsis, Troy Mayon. Also click above to hear Coach Kyle Nystrom's post-game comments, and the radio replay of Jake Mayon's fourth quarter touchdown.