Schedule Revealed For Bay Norse Men's Basketball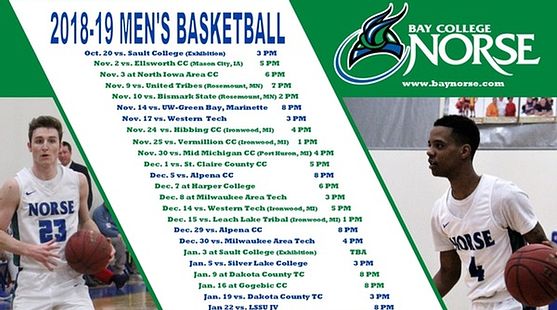 ESCANABA---The Bay College Norse Men's Basketball Team has released their 2018-19 regular season schedule. The Men's team, under the direction of second-year Head Coach Matt Johnson, will look to improve on a 22-7 record.

The Norse also announce that season tickets have gone on sale for this year's schedule that will feature ten home games, and one home exhibition for the Norse.



The lone home exhibition will feature Sault College from Sault Ste. Marie, Ontario on October 20th. The Norse then open regular season play on the road, playing in tournaments in Mason City, Iowa, and Rosemount, Minnesota. The home opener will bring UW-Green Bay, Marinette to campus on November 14th.


After hosting Western Tech on November 17th, the Norse will stay in state to pick up a couple of tournaments. They will travel to Gogebic CC in Ironwood for a pair of games on November 24th and 25th, and then to St. Claire County CC in Port Huron for games on November 30th and December 1st.


December 5th will mark the third home matchup for the Norse as they play host to Alpena Community College. Bay will then go on a four game road trip before returning home to host a tournament over the holiday break. That tournament will see the Norse face Alpena CC on December 29th and Milwaukee Area Technical College on December 30th.


The next three of five matchups will be at home for the Norse as well, hosting Silver Lake College (January 5th), Dakota County Technical College (January 19th), and Lake Superior State JV (January 22nd).

That will send the team on the second of their four game road trips, before they return home again on February 9th to face Bryant & Stratton College. The Norse will play their final regular season home game on February 13th against Gogebic Community College. They will wrap up regular season play on February 16th at Harry S. Truman College.


Season tickets are available by visiting http://baycollege.tix.com/Schedule.aspx?OrgNum=3755, at the Besse Theater Box Office, or by calling 906-217-4045.

Reserved season tickets for those home games are $100, while general admission season tickets are $75.


The Norse will be eligible for post season play this season as a NJCAA Division II representative of Region 13. For a complete schedule and the most up to date scores and news, visit www.baynorse.com.