Fast Start Helps Grand Valley Overwhelm Northern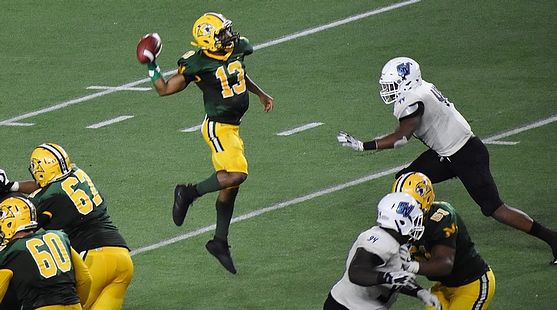 MARQUETTE---The fifth-ranked Grand Valley State Lakers jumped to a 27-0 lead and cruised to a 47-14 win over the Northern Michigan Wildcats Saturday at the Superior Dome. Jake Mayon and Latrell Giles both scored touchdowns in a losing effort for NMU.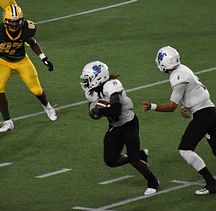 "I just didn't like the game," NMU Head Coach Kyle Nystrom said. "We got behind and lost our composure and poise. That's the sign of an immature team, and that's where we're at. Hats off to them (GVSU), they are what they area. They're really, really, really good."

Nystrom was upset that his team committed a couple of personal foul penalties, and felt that the overall effort could have been better against the Lakers.

"Scheme-wise, we were fine, it's just that we couldn't tackle," Nystrom said. "And we couldn't cover them on the deep routes. Whenever you give up that many big plays, you're going to be out of the game, and that's where we found ourselves."

Grand Valley freshman back Jack Provencher scored on a 20-yard run to cap an 81-yard, 11-play drive to get the game started. Then after the Wildcats went three-and-out, senior quarterback Bart Williams scored on a six-yard run, completing a 57-yard drive.

Williams tossed an eight-yard touchdown pass to Provencher early in the second quarter, then Williams hooked up with Nick Dodson for a 22-yard touchdown.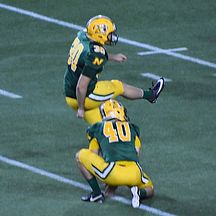 Trailing 27-0, the Wildcats got the offense going in a faster tempo, and sophomore quarterback Latrell Giles directed an 89-yard, 11-play drive.

Mayon scored on a two-yard run with 38 seconds left in the half, and Daniel Riser knocked home the extra point.

But GVSU got the second half kickoff and Williams threw another touchdown pass to Dodson, this time, a 28-yard strike, wrapping up an 83-yard drive.

The Wildcats came back with a 67-yard, eight play drive that ended with Giles scoring from three yards out. Riser's extra point kick cut it to 34-14, and the NMU defense got a stop, forcing a Grand Valley punt.

Any attempt at closing the deficit ended, however, with an intenional grounding penalty, and two more penalties set the 'Cats back to a 3rd-and-40 situation.

Grand Valley scored two more touchdowns in the fourth quarter.

Williams completed 17 of 28 passes for 280 yards and four touchdowns for GVSU. Chawntez Moss rushed for 137 yards on 20 carries as the Lakers ended up with 546 yards of total offense.


NMU (1-2) was lkmited to 217 yards of total offense, with Giles completing 8-of-16 passes for 98 yards. Giles also ran for 65 yards on 16 carries.

Mayon was held to 37 yards on 12 carries by the stingy Laker defense.

NMU's defense was led by Brady Hanson, who had 14 tackles (eight solo).

Northern faces another tough opponent next Saturday, as sixth-ranked Ferris State comes to the Superior Dome for NMU Homecoming. Game time is 4:00.

"We've got a lot of work to do," Nystrom said. "We'll find out what we're made of. You've got to fight back when somebody does this to you, and we have to be tough enough to endure and battle. It's not going to get any easier next week."

It will be broadcast live on WUPT-FM (100.3 The Point) and WCHT-AM (NewsTalk 600), and on-line at www.rrnsports.com and www.radioresultsnetwork.com.

Click the thumbnails in the ARTICLE HIGHLIGHTS box above to see a few videos and pictures, and listen to player spotlight interviews with Jacob Dudeck and John Kwiecinski. Also listen to Coach Kyle Nystrom's post-game comments, and thoughts on the 1975 national championship.