RIVALRY RALLY: Chaillier Powers Eskymo Victory

ESCANABA---The Escanaba Eskymos lost the first two sets of their match with the Gladstone Braves Tuesday night, but roared back to take the next three sets, and the match, 3-2. The scores were 14-25, 20-25, 25-20, 25-20, and 15-13.

"What an amazing game," Eskymo Coach Adam Lambert said. "Gladstone brought it, and we were here to defend ourselves, and we took the game. These girls are amazing. They knew that they had it in them. I knew they had it in them."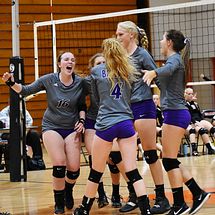 Eskymo senior Lexi Chaillier was unstoppable in the final three sets, and finished with 28 kills in the victory.

"We knew that we couldn't get down on ourselves," Chaillier said. "That's not how we play, and we weren't playing to our capabilities. And so we just said, as a team, we just needed to be more hyped when people get kills, and aces. That was pretty much it. Our mentality stayed up the whole time and that's basically is what won us the game."

Gladstone's Megan Crow dominated the early part of the match, especially in the first set, when the Braves rolled, 25-14.

She also had three straight points in the second set, but Chaillier took control in the third set, after the Braves had gone in front, 12-9.

"I kind of figured out how their defense was set up, and what tehy could cover, and what they couldn't cover," Chaillier said. "So, that's basically where I was going. I just decided that hitting it right into her (Crow) arms wasn't helping me, so I had to go around her."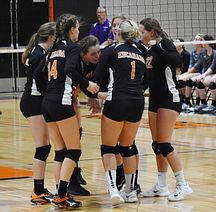 Escanaba scored 12 straight points on the serve of Jalin Olson to win that third set.

The Eskymos controlled the fourth set, but fell behind in the fifth set, 5-1 and 9-7. But Chaillier had three big kills down the stretch, and Tessa Henderson put it away with a kill and a service ace, sending the big crowd into hysterics.

"Our girls thrived off the energy in the room," Lambert said. "It was loud in here. When there's no energy in the room, the girls don't know what to do as much. So, the fans brought it, and it really jazzed them up."

The Eskymos also beat the Braves in a 3-2 marathon earlier this season in Gladstone.

Click the thumbnails in the ARTICLE HIGHLIGHTS box above to see photos, video highlights, and listen to interviews.