Northern Begins Homecoming With Statue, Movie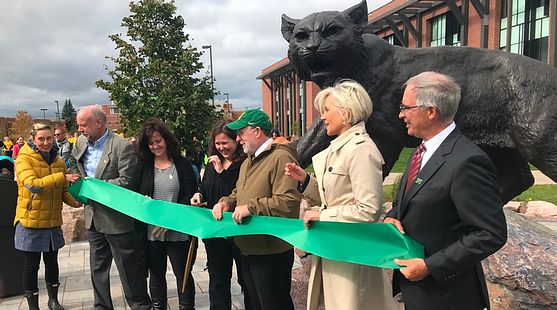 MARQUETTE---Northern Michigan University continued Homecoming activities on Friday with the unveiling of a new statue in the heart of campus.

It is named after former NMU Board member and 1960 graduate Gil Ziegler, and members of his family were on hand for the event.

The sun made a brief appearance, but there was a gusty cold wind off of Lake Superior as temperatures fell into the low 50's.

Northern Michigan University President Fritz Erickson helped to unveil the statue, which is located near Jamrich Hall.

The 1975 NMU national champion football team was also honored Friday with the playing of a documentary about the team's unlikely championship at the Forest Roberts Theatre. Members of that '75 team were on hand for the viewing of the film.

The current NMU football team was inside the Superior Dome practicing ahead of Saturday's game against 6th-ranked Ferris State. Kickoff is 4:00. It will be broadcast live on WUPT-FM (100.3 The Point) and WCHT-AM (NewsTalk 600).

Photos from both of Friday's events, and the Wildcat practice, are posted in the ARTICLE HIGHLIGHTS box at the top of this page. Also, watch a fill video of the statue uneviling and a snipet of the documentary.