Wildcats Fall To No. 6 Ferris State On Homecoming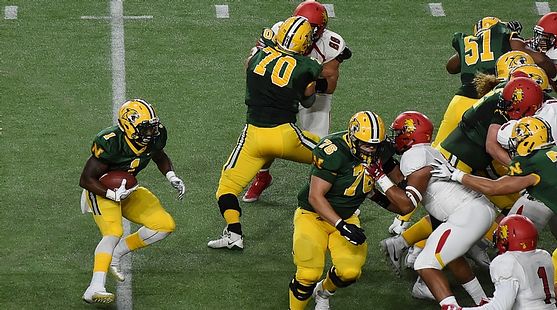 MARQUETTE---Jayru Campbell threw three touchdown passes and ran in two other scores as the sixth-ranked Ferris State Bulldogs beat the Northern Michigan Wildcats, 35-19, Saturday at the Superior Dome.

Jake Mayon scored a pair of touchdowns for NMU.

"I feel better about them than I did last week," NMU Coach Kyle Nystrom said. "There were strides. But you're disappointed when you don't win, that's all. We're not the kind of people here who are going to be satisfied with anything but a win. Do I see improvement? Yeah. Am I happy about the game? No."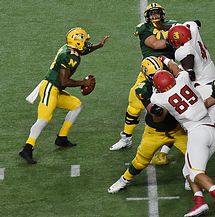 The Wildcats had a huge chance on the game's first posession when quarterback Latrell Giles hooked up with receiver Ryan Knight on a long first down pass, and then Giles had a first down run to the Ferris 10 yard-line.

But the 'Cats came up empty when Giles was sacked and fumbled the ball. Northern got it back, but it was a 22-yard loss back to the 32-yard line.

Daniel Riser was then short on a 50-yard field goal attempt. Ferris marched down the field on a 67-yard, nine-play drive, capped off on a 6-yard touchdown pass from Campbell.

The Wildcats went three-and-out, but the NMU defense got a stop, forcing a Bulldog punt. The punt was a low line drive that bounced off the leg of an NMU player. The Bulldogs recovered at the NMU 21 yard-line, and scored three plays later when Campbell threw a seven-yard touchdown pass to Jevon Shaw.

"You can't do that," Nystrom said. "Not against Ferris. We've got to be better."

The Wildcats put together a nice drive deep into the Ferris red zone, but had to settle for a 40-yard field goal from Riser. The quick-strike Bulldog offense did just that, taking just 47 seconds to score on a 28-yard TD pass from Campbell to Barnett.

Trailing 21-3, the 'Cats went 75 yards in 13 plays, with Mayon scoring from two yards out. Riser's extra point cut it to a 21-10 game at the break.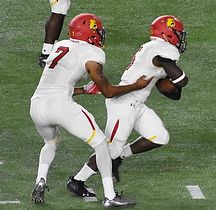 After the newest NMU Sports Hall of Famers were honored at halftime as part of Homecoming activities, the Bulldogs scored two touchdowns on short Campbell runs in the third quarter

The Wildcats battled back again with a 67-yard drive in 11 plays, with Mayon scoring from two yards out. The two-point play, however, ended up inches shy of the goal line.

In the fourth quarter, NMU again moved deep into Ferris State territory, but stalled in the red zone and had to settle for a 25-yard Riser field goal.

The Bulldogs got three first downs and ran out the clock to improve to 4-0.

Campbell completed 12-of-20 passes for 179 yards and three touchdowns. He also rushed for 168 yards on 22 carries, and two mpre touchdowns, giving him a total of 347 yards of offense. He accounted for all five Ferris touchdowns.

Mayon led the 'Cats with 97 yards on 23 carries and two TD. Giles carried 17 times for 54 yards, and he completed 10-of-23 passes for 177 yards.

Defensively, Troy Mayon led the way with 16 tackles (six solo) and he intercepted a pass. Brady Hanson had double-digit tackles for a second straight week with 11.

"We weren't very good in the red zone in the first half," Nystrom said. "We had our opportunities."

NMU fell to 1-3 on the season, with back-to-back losses to teams ranked in the top six in teh country. And the 'Cats will play another undfeated team next week on the road in Grand Rapids, as Davenport University will enter that game with a 4-0 record.

The game starts at noon and will be broadcast on WUPT-FM (100.3 The Point), WCHT-AM (NewsTalk 600), and on-line at www.rrnsports.com.

Click the thumbnails in the ARTICLE HIGHLIGHTS box above to see photos, a video of Jake Mayon's first touchdown, and hear interviews with Nystrom, Brady Hanson, and Casey Wolf.